Source: The Kiteboarder's Magazine
TKB Magazine put together a comprehensive list of what's new for F-One this upcoming year, they did the same with Manera very recently and they always provide a great wealth of insider information on the products, the why, the when, for who, etc… a must read.
One of the first company's to launch a wing product that set the performance bar for subsequent competitor's designs, F-One's founder Raphael Salles is no stranger to windsports. With more than 40 years of experience in wind powered sports, Raphael's passion for innovation is apparent in F-One's 2021 lineup. Marketing's Chloe Scamps highlights the key changes at F-One for this year.
---
WHAT IS NEW AT THE ORGANIZATIONAL LEVEL OF YOUR COMPANY FOR 2021?
2020 has changed many things in the way we work in general. After two and a half months of strict lockdown, we have been crazy about going back on the water. We have seen many people return to our sport after years without practicing kiteboarding or any watersports in general.
We are experiencing a radical change in our industry where sports are merging and riders are on an endless quest for experiences rather than practicing the same watersport. Our main goal this year was to be able to launch a new collection of products in the face of the pandemic restrictions without compromising the quality of our testing process. We are proud of our rich history and deep roots in the kiteboarding industry, however, we are now focusing on offering the best riding experience with all the different wind and surf sports (wing foiling, surf foiling, SUPing and more). We are lucky to all be passionate about the ocean—from employees to pro-riders, we are stoked to have more and more ways to be out on the water no matter the conditions.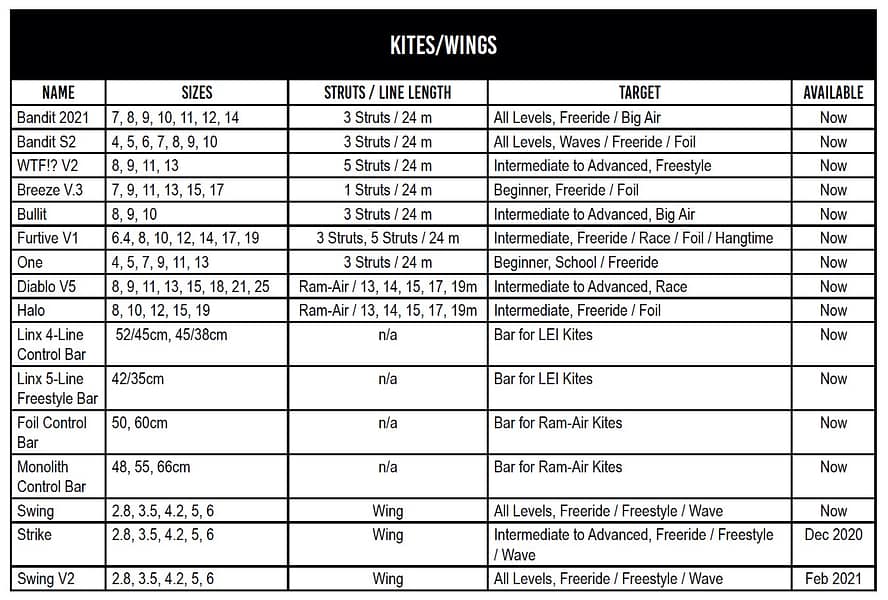 IS THERE A SINGLE INNOVATION THAT YOU WOULD FIRST LIKE TO HIGHLIGHT?
Developing products is Raphael's passion and it is what drives everything at F-One. Innovation is the result of hours spent on the water. We design to fulfill the needs created by the rider within. We have invested a lot of time in wing development in the past year. We are now proud to be releasing a second wing model this winter. We have also worked on different foils and boards to give riders the perfect wing foil experience according to their individual level. The work that went into our wing designs surprisingly has helped us improve our Bandit and inflatable kites in general. For example, we worked on the panel placement on our trailing edge on both the wings and kites. We are working on many ways to make foiling more accessible, innovating in foiling constructions for a better value for the money as well as ease of use.
HOW DO YOU EXPLAIN THE KITE MODELS IN YOUR 2021 LINEUP IN A NUTSHELL? FOR EACH KITE, WHAT IS THE INTENDED TYPE OF RIDING AND TARGET USER AND KEY CHANGES FOR 2021?
With the launch of our latest satellite kite the Bullit and the recent release of our new Bandit, we are confident to say that F-One offers a very comprehensive range of kites for all disciplines. From the 14th edition of the Bandit and its improved design to the Diablo V5, the ultimate racing ram-air kite, each rider will find the kite which suits his or her riding style. We now have nine kites in our collection. Each of them offers the opportunity to learn from and make real improvements to other designs when developing them. This theory is actually applicable to the entire F-One range.
Our newest Bandit, F-One's all around/big air specialist, has once again been improved. This year sees the introduction of a new canopy vertical panel along the 135g Dacron trailing edge and its new horizontal reinforcement. This resulted in much better performance, an impressive wind range, fantastic depower, stability and control. The second edition of the Bandit S, our wave/strapless freestyle kite, has received some major improvements to take your wave riding, strapless freestyle and foiling to the next level. Improvements have also been made to the Breeze V3, our super user-friendly one-strut kite.
After 18 months of testing with our top team riders, we are proud to release our Olympic-registered kite, the new Diablo V5, the kite which copes with any conditions so you can focus on your racing. The One is our kite specifically designed for beginners and freeriders to progress in total safety. The Bullit, released last February for the Red Bull King of the Air, is Liam Whaley's kite of choice when the wind is nuking. It allows for big megaloops and sent boards-offs, all in safety. The WTF V2, Halo and Furtive remain the same for 2021 but we are working on new ways to improve them.
IF YOU ARE RELEASING A WING PRODUCT THIS YEAR, WHAT IS THE TYPE OF RIDING THAT IS TARGETED AND WHAT ARE THE KEY FUNCTIONAL AND PERFORMANCE FEATURES INTRODUCED THIS YEAR TO YOUR WING?
With more than 40 years in wind-powered watersports like windsurfing and kiteboarding, our founder Raphael Salles identified the importance of wing foiling early on and immediately invested a lot of time and energy. For the past year and a half, the team has been building and testing additional prototypes to understand how a wing works and how it should react. With things being so new and the many improvements that have been made since the original Swing product, the team decided to release a new model which will satisfy another type of riders' needs!
The original Swing has been improved and will come back in 2021 to suit beginners' needs just as well as the experienced riders who are looking for a compact and very easy to use and handling wing. The Strike, our new performance wing, will satisfy those who are looking for increased upwind performance as well as impressive jumping abilities. Check out Titouan Galea's Instagram profile for a sneak peek of what is possible! We are very proud of our wing range, which has been developed with the exact same level of attention as our kite range.
WHAT ARE THE NEW AND/OR THE MOST POPULAR MODELS IN YOUR TWIN TIP LINEUP? HOW HAS THAT CHANGED FOR 2021?
The Trax remains the most popular board in our range. It comes in three different versions to suit different types of riders. Our twin tip range doesn't have any other major changes for 2021, but is extremely comprehensive, from kids to big air junkies to freestylers, you'll find what you need!
WHAT ARE THE NEW AND/OR THE MOST POPULAR MODELS IN YOUR SURFBOARD LINEUP? HOW HAS THAT CHANGED FOR 2021?
In April 2020, we launched the Magnet Carbon, a revolutionary board for the strapless freestyle world. Its Slim Tech Carbon custom construction is unique and to satisfy our demanding riders' needs, we used technology close to our thin twin-tip boards along with a high-density structural foam core instead of a classic EPS core that is typically used in all surfboards. This resulted in a super light board with improved control and amazing flex to land strapless tricks.
DO YOU HAVE ANY ACCESSORIES OR OTHER PRODUCT LINES YOU WOULD LIKE TO BRIEFLY INTRODUCE OR DISCUSS CHANGES/HIGHLIGHTS FOR 2021?
We released a brand new foil collection back in Spring 2020, but with the rapid evolution of our sport, we are constantly identifying new needs and will make sure you don't miss out on a session because you don't have the appropriate gear. Stay tuned—we will have new products coming out throughout 2021!