Source: The Kiteboarder – November 18, 2020
100% owned and run by the same French family since its inception, Manera products are made to brave the worst conditions and abuse. With major changes to the wetsuit line, tweaks to its harness offerings and unique new booties specifically designed for kiters, Manera's Julien Salles is super excited to share their 2021 collection.

WHAT IS NEW AT THE ORGANIZATIONAL LEVEL OF YOUR COMPANY FOR 2021?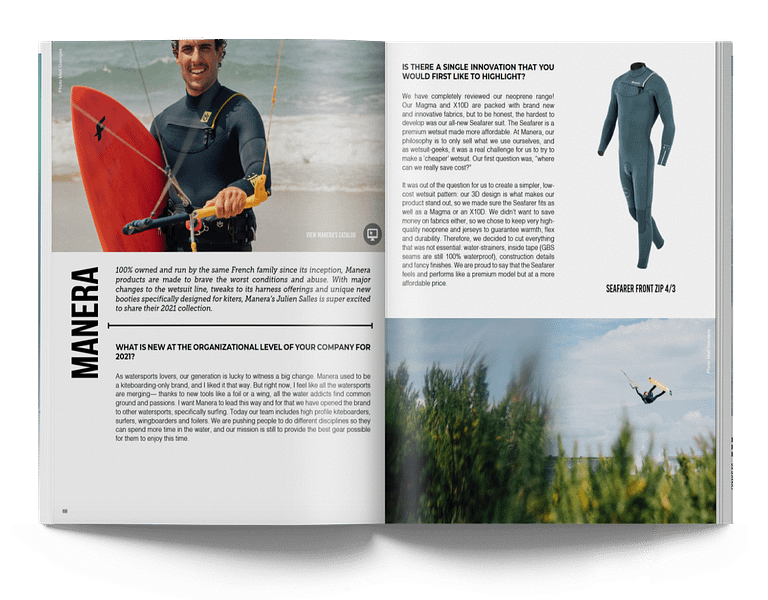 As watersports lovers, our generation is lucky to witness a big change. Manera used to be a kiteboarding-only brand, and I liked it that way. But right now, I feel like all the watersports are merging— thanks to new tools like a foil or a wing, all the water addicts find common ground and passions.
I want Manera to lead this way and for that we have opened the brand to other watersports, specifically surfing. Today our team includes high profile kiteboarders, surfers, wingboarders and foilers. We are pushing people to do different disciplines so they can spend more time in the water, and our mission is still to provide the best gear possible for them to enjoy this time.
IS THERE A SINGLE INNOVATION THAT YOU WOULD FIRST LIKE TO HIGHLIGHT?
We have completely reviewed our neoprene range! Our Magma and X10D are packed with brand new and innovative fabrics, but to be honest, the hardest to develop was our all-new Seafarer suit. The Seafarer is a premium wetsuit made more affordable. At Manera, our philosophy is to only sell what we use ourselves, and as wetsuit-geeks, it was a real challenge for us to try to make a 'cheaper' wetsuit. Our first question was, "where can we really save cost?"
It was out of the question for us to create a simpler, low cost wetsuit pattern: our 3D design is what makes our product stand out, so we made sure the Seafarer fits as well as a Magma or an X10D. We didn't want to save money on fabrics either, so we chose to keep very high quality neoprene and jerseys to guarantee warmth, flex and durability. Therefore, we decided to cut everything that was not essential: water-strainers, inside tape (GBS seams are still 100% waterproof), construction details and fancy finishes. We are proud to say that the Seafarer feels and performs like a premium model but at a more affordable price.
HOW DO YOU EXPLAIN THE HARNESS MODELS IN YOUR 2021 LINEUP IN A NUTSHELL? FOR EACH HARNESS, WHAT IS THE INTENDED TYPE OF RIDING AND TARGET USER AND KEY CHANGES FOR 2021?
A few years ago, we developed the Adaptive Shell. This technology stands between a soft shell and a hard shell: We tend to say that we take the best of both worlds! We believe we need some kind of stiffness in a harness to provide good support and anti-compression, but a 100% hard hardness does not fit every morphology and it doesn't adapt to your back during movements. The Adaptive Shell features a stiffer center area for support and a softer outline that provides more flex. We use this technology in our two harness offerings.
The Eclipse's second edition is still our low profile go-to harness if you need great freedom of movement, for example in waves or freestyle. We have updated the EXO to the EXO 2.0: it features the same higher outline as our first EXO but is now equipped with an Adaptive Shell. It is a great harness for those who need a lot of support for freeriding or big air.
Our harnesses are delivered with a standard hook, and we offer our sliding hook as a spare part. Our standard hook has been recognized as one of the strongest hooks on the market and our sliding rope is made out of two special anti-abrasion ropes that offer a controlled slide and great durability.
WHAT HAS CHANGED OR IS NEW IN YOUR 2021 WETSUIT LINEUP? WHAT ARE THE KEY FUNCTIONAL AND PERFORMANCE FEATURES INTRODUCED THIS YEAR?
Pretty much everything! We used to have two models: Magma and X10D. But as we said earlier, the Seafarer was introduced in September 2020. We now offer a very complete range: Magma is for warmth and comfort, the X10D is for flex and lightness and our new Seafarer offers you a budget suit with a great warmth, durability and flex ratio.
The Magma wetsuits are now equipped with our brand-new Magma+ fleece that offers more warmth and lightness and that dries 30% faster than any other fleece on the market. We also added our innovative Magma fleece into our X10D wetsuits: besides being warmer, this fleece is 22% lighter than classic jersey, offering unparalleled lightness and flex to the 2021 X10D line. Above all else, all of our wetsuits feature our renowned 3D design, which offers the best fit in the industry.
DO YOU HAVE ANY ACCESSORIES OR OTHER PRODUCT LINES YOU WOULD LIKE TO BRIEFLY INTRODUCE OR DISCUSS CHANGES/HIGHLIGHTS FOR 2021?
We have worked a lot on other neoprene accessories. As cold-water lovers, we know that your head, hands and feet are as (if not more) important to protect as your body. We offer two models of hoods, gloves and boots (Magma and X10D).
As kiteboarders, we need great support and precision in our feet movement, so we implemented 'sidewalls' on each side of the foot in our booties to maintain it. We also use a stiffer neoprene around the front of the foot to better hold the boot structure. Without these features, the foot would be able to slide or the boot would deform, which would lead the user to lose their balance, lack precision or even get hurt. Having Velcro on the top was out of the question—we don't feel like it offers great comfort and it would not fit into a kiteboarding strap anyway.
We offer boots for those who don't like boots. They keep you warm and comfy, but they are made to be forgotten once in the water while still offering great foot support. Booties options include the 5mm Magma and 3mm X10D models, both split-toe designs.