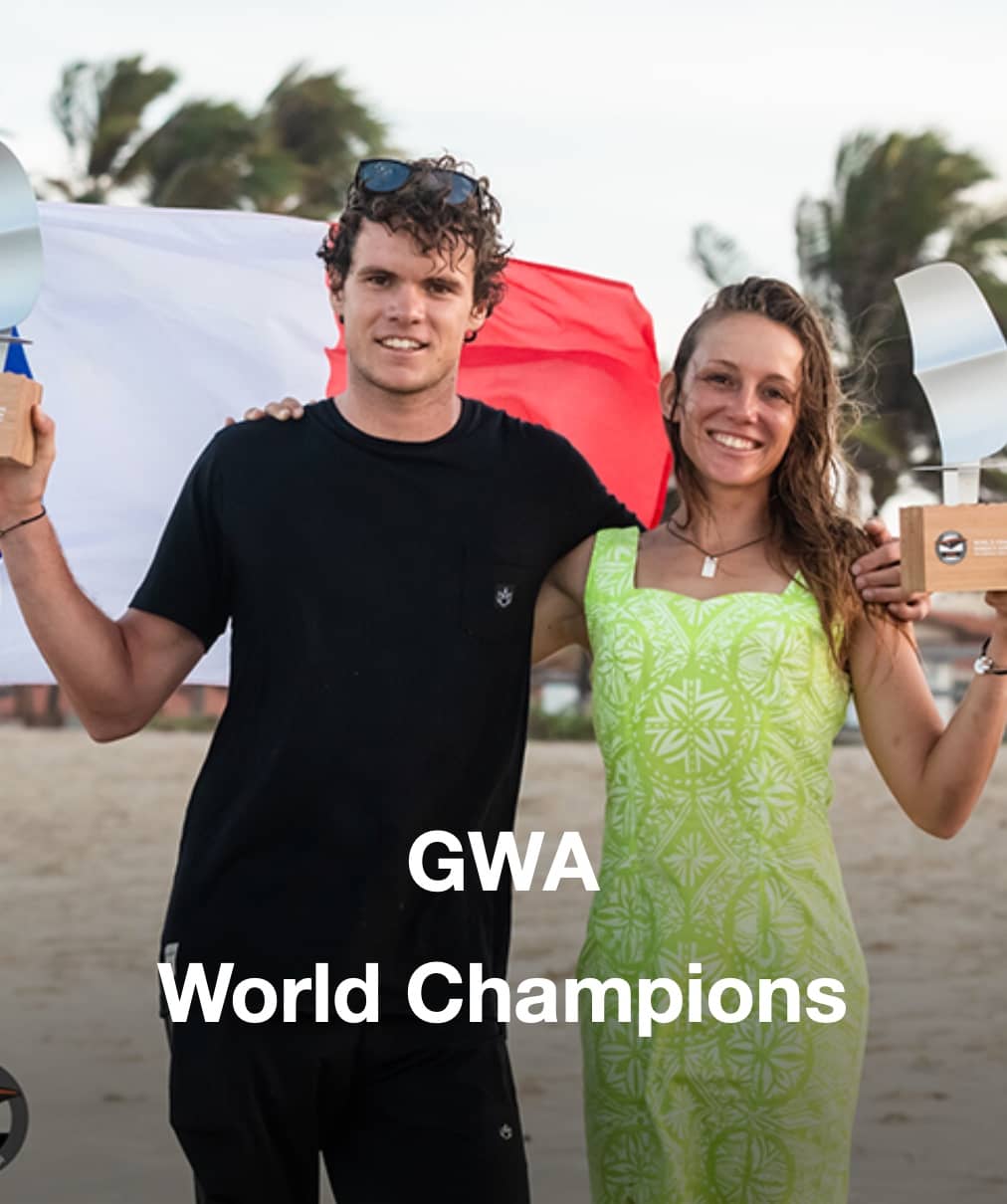 After three thrilling stops of the 2022 GWA Wingfoil World Cup, F-ONE team riders Flora Artzner and Titouan Galea became World Champions in surf-slalom.
FLORA ARTZNER
Surf-Slalom Women World Champion
Flora dominated the event throughout the season, winning the first two races in France and Switzerland. She arrived in Taiba, Brazil, as the women's tour leader and only needed to finish fourth or better to claim the world title.
After two days of intense racing, she ultimately finished third in Brazil, which was enough for her to become World Champion for the first time.
Flora also shone in the surf-freestyle event, winning the Brazil leg and finishing third overall.
DISCOVER HER QUIVER
WING: Strike V2
BOARD: Rocket Wing Carbon
MAST: Carbon HM 85cm
HYDROFOIL: Escape HM 630
TITOUAN GALEA
Surf-Slalom Men World Champion
Titouan arrived in Taiba as the reigning World Champion and hungry to defend his title. He started the season off well, comfortably winning the first leg of the World Cup in France and finishing second at the next stop in Switzerland. Just like Flora, he too was the tour leader and favorite heading into the final leg in Brazil.
The men's surf-slalom heats were incredibly tight, as the athletes at the top of the leaderboard were neck and neck to claim the crown. Showing grit and determination, Titouan fought until the last elimination round. In the end, he ranked second at this event, which earned him enough points to bring home the world title for the second year in a row.
DISCOVER HIS QUIVER
WING: Strike V2
BOARD: Rocket Wing-S Carbon
MAST: Carbon HM 85cm
HYDROFOIL: Escape HM 530
Congratulations to Flora and Titouan for their performances! The GWA Wingfoil World Tour 2022 is now over for this year, and we are already looking forward to seeing what the F-ONE team can do next.