This was a week to remember for F-One at the first stop of the Kitefoil Gold Cup in La Ventana, Baja Mexico. Hosted by Playa Central Kiteboarding, who are located in the heart of La Ventana, the event drew the best foilers on the planet. Nobody was missing. A big contingent of French riders made the trip, which was expected given that foiling is already big in France. The Withington family (owners of Playa Central Jessica, Olivia and Adam)  did a great job all week long, assisted by race manager Rob Dean, event photographer Michael Petrikov, drone videographer Chas Walter, etc.. Many thanks to all of you!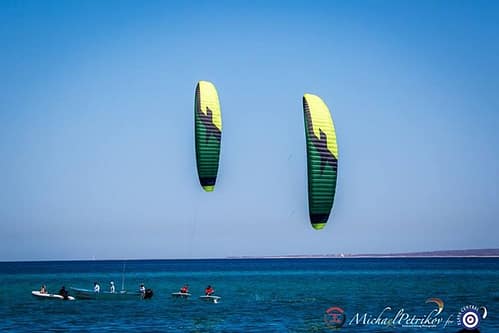 I was unsure what to expect from our participation in the event. I knew F-One recently made a splash by adding top ranked Maxime Nocher to its Foil team and forming with Romain Castel a great one two punch. This would also be the grand debut of the all new F-One ram air kite, a ultra high aspect kite (or foil kite, or parafoil) that few people even knew existed in the first place. Right from the get-go and the first practice sessions, the new kite proved to be already VERY competitive. And by the end of the week and a fantastic duel with Nico Parlier (Ozone) and Johnny Heineken (Ozone), Max would finished with the same points as Nico Parlier, but in second place given the sailing rules to use the discards to decide for first and second place. This was a dream start ! Romain also showed that he belongs to the top ten, even higher when he is on his game.  Not only do the ram air kites are now the go to kite for racers but they are also the absolute weapon in low wind area, whether or not you use a foil with it. And we do have a lot of area like that in the US.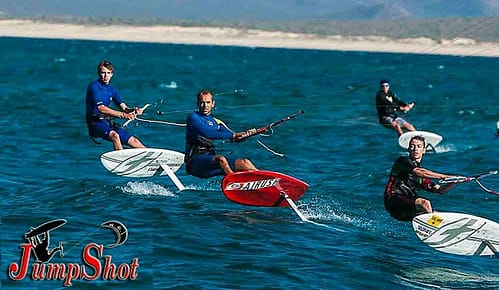 The F-One freeride hydrofoil was also on the cusp of being released and I had some frantic emails/texts with France prior the event to try to secure one or two of the very first production models so we could achieve two goals, one was to show it and demo it to the racers who are also shop and/or school owners . And the second goal was to do a crash course on how to foil ! The freeride version is made specifically for beginners and intermediate riders with the option down the road to change your front and back wing if you want to be competitive during races; it as a top notch pre peg full carbon construction made in France (a first too for F-One !); its design is considered the latest generation where you can go planning very quickly and with small kites even in marginal wind. You can use a dedicated Foil board like the 5'1 you see on the picture (more info here)  or you can also use it with a Mitu Pro Surf 'Convertible". This modified version has a KF box on it (and a plug when you dont use your foil). one board, two sports ! The feedback was great from people who have tried and used every single foil there is and I can't wait to receive the first production and dispatch them among our dealers as we have already a lot of pre orders for it !!
On a personal level, even though im still learning how to properly foil (foiling is not the plug and play kind of sport; it's humbling at first but so much fun to learn a new sport), I'm sold ! Watching the racers literally fly over the water was spectacular and very entertaining. We are definitely entering a new chapter in the history of kiteboarding and I'm so stoked that, once again, F-One is a big part of it. We have to thank Raphael and his team of kite designer and testers for that. The last time I felt this kind of energy and renewed passion was when F-One came out with the Bandit, and that was already 8 years ago…
Stay tuned as to when the new ram air kite and the foil will be available. In the meantime, if you are a foil racer in the Bay Area, you can already contact us and we will make arrangements so you can test the new kite. We also have a foil but again, you have to be a foiler in order to test it. If you are interested in learning how to foil, contact us and we will direct you to the right people.
Hasta pronto !
-Nico Ostermann
IKA Kite Foil Gold Cup Mexico Playa Central 2015 from Michael Petrikov on Vimeo.