There has been some crazy good action at the WKL Youth Cup 2017!
After a week of training with Etienne LHOTE for the annual NEXT GENERATION camp, the F-ONE groms were all pumped-up for the most important junior competition of the year.
12 F-ONE NEXT GENERATION kids from 6 different countries participated at this event. The kids were separated in age categories:
8-14 Girls: Osaia REDING and Mikaili SOL
12-14 Boys: Kimo VERKERK, Oscar PERRINEAU, Guigui COSTA, Hugo METTON, Sebastian DUCOS SENDRA, and Luis SILVA ARAUJO
15-16 Boys: Maxime CHABLOZ, Théo FERMON, MANOEL Dos Santos, Malcom DESVAUX
8-14 GIRLS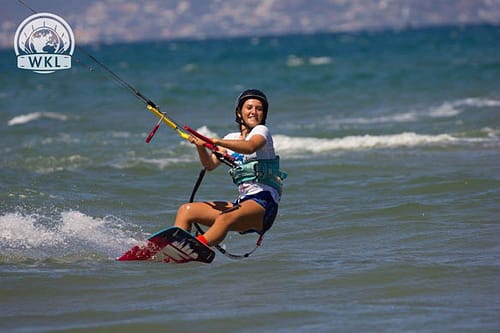 Starting with the girls, Osaia REDING 2017 World Champion with an impressive and clean performance throughout the competition. Landing nice S-Bend to Blinds and Blind Judges, her winter training has really paid off!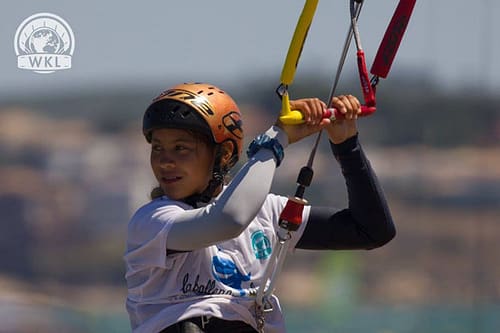 Mikaili SOL had the title for the past years, did not manage this time to land as many tricks. She however landed a 9.73 Back Mobe with a super low kite and a 2.5m high jump. Best score of the competition.
12-14 BOYS
6 of our boys were competing in the 12-14 category. Guigui COSTA, from the Projeto Vivo Brasil, a great charity that F-ONE is supporting, has performed solid tricks and has scored so well that he finished at the 2nd place of the category!
Hugo METTON has also landed nice Backside 313 which allowed him to finish at the 5th place of the competition.
Luis SILVA ARUJO scoring a nice 7.2 Slim 5 has impressed the crowd.
Sebastian DUCOS SENDRA (3rd at the Spanish Championship last weekend) and Kimo VERKERK also performed well.
Oscar PERRINEAU has really shown his technical tricks during this competition. Unfortunately, a tiny difference in points takes him away from the podium. He is 4th.
15-16 BOYS
What an amazing competition for Maxime CHABLOZ and Manoel SOARES. They have both shown an outstanding level and end up leading the 15-16 podium!
It has been a very tight final between the two NEXT GENERATION riders, but Maxime ended his heat with a superb 8.18 scored Backside 317. Which gives him the World Champion Title!
We would like to congratulate Théo FERMON and Malcom DESVAUX who have landed some solid tricks, including a nice 7.17 Double Hinterberger Mobe 3 for Malcom's first participation at the WKL Youth Cup.
A huge thank you to Etienne LHOTE who once again, has been an incredible coach and a great mentor for the kids.