Hydrofoils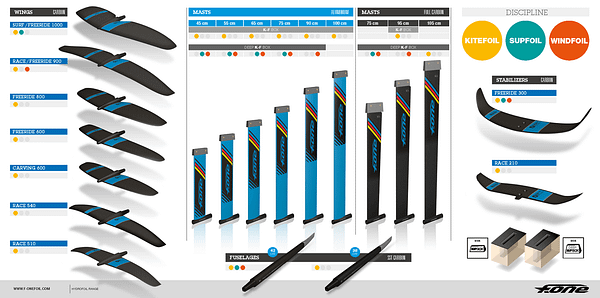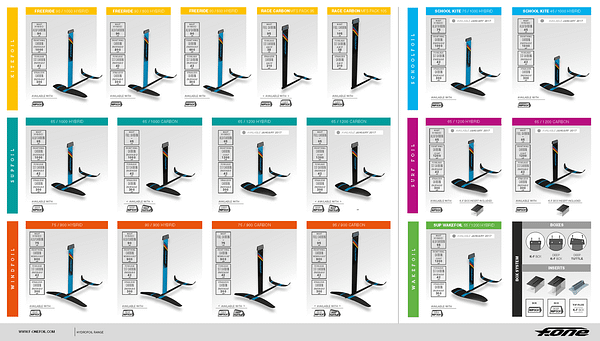 As read in iKsurfmag:
F-ONE are one of the brands who have truly embraced hydrofoil. 2016 sees the third year of production and a vastly larger range than in previous years! Last year they showcased their innovative connection system which features one bolt to connect the front wing, fuselage, and rear stabilizer. Named the Fast Connection Device, this system has allowed them to create a range that is now fully interchangeable and upgradable. The most expensive part of any foilboard to manufacture is the mast, it has to be stiff enough to withstand the huge pressures forced upon it while still being thin enough to be efficient through the water. In the past the F-ONE foil has been a premium-priced product, but now with the introduction of aluminum masts, those prices have come tumbling down. You can buy one of the hybrid aluminum / carbon foil set ups for $1449 USD, this includes carbon wings, fuselage, and stabilizers! It certainly seems like a bargain to us!

There are 4 distincts setups in the range, each one features the Fast Connection Device, meaning if you start off with the basic model, you can then just upgrade the front wing when you progress. And if you get really into it, you could then upgrade to a carbon mast for the ultimate in performance. All the foils use the K-F Box system to connect to the board, this involves two bolts and leaves a perfectly flush finish on the underside of the board.
Foil Hybrid Freeride 800
The beginner's model in the range has a lower aspect front wing, designed to foil at lower speeds to make learning to ride much easier. The wing, fuselage, and stabilizer are all made from pre-preg carbon. The rear stabilizer bolts on,which is new for this year, this allows you to pack the whole set up down much smaller and means you can change the front and rear wings would you desire too.
The Hybrid Aluminum/Carbon Freeride 800 is made of:
– Mast Aluminum 90cm
– Front Wing Carbon Freeride 800
– Fuselage SST Carbon Freeride 42cm
– Stabilizer Carbon Freeride 300cm²
– KF-Box
Foil Hybrid Freeride 600
The Freeride 600 is the next model up from the 800, it features the same aluminum mast, fuselage, and rear stabilizer, but has a higher aspect front wing. This setup is identical to last year's design in terms of shape but features the aluminum mast to keep the costs down and the interchangeable rear stabilizer.
The Hybrid Aluminum/Carbon Freeride 600 is made of:
– Mast Aluminum 90cm
– Front Wing Carbon Freeride 600
– Fuselage SST Carbon Freeride 42cm
– Stabilizer Carbon Freeride 300cm²
– KF-Box
Foil Carbon Freeride 600
If performance is what you are after in an easy to use package then this is the setup to go for. The aluminum mast is swapped for a full pre-preg carbon layup with full carbon wings and fuselage. It's the same shape as the hybrid version, but the mast is 5cm longer and has a lower profile too.
The Carbon Freeride 600 Foil is made of:
– Mast Carbon 95cm
– Front Wing Carbon Freeride 600
– Fuselage SST Carbon Freeride 42cm
– Stabilizer Carbon Freeride 300cm²
– KF-Box
Foil Carbon Race Grand Prix
The pinnacle of the F-One Foil design program and the very same set up that top pro riders Maxime Nocher and Joey Pasquali have been using to great effect on the Hydrofoil Pro Tour. This set up is full carbon and features a huge 105cm mast with race wings and a shorter race fuselage. If you want to go fast and be the quickest rider on the course this is the set up for you!
The Foil Carbon Race Grand Prix is made of:
– Mast Full Carbon Race 105cm
– Front Wing Carbon Race 510
– Fuselage SST Carbon Race 38cm
– Stabilizer Carbon Race 210cm²
– KF-Box
Foilboards (Regular and Carbon Series)
Available in three different widths, these boards were created to be 100% dedicated to foiling with tailored characteristics to meet the requirements of this new discipline. Two foilboard sizes are available in carbon series: the 49 and the 47. Regular fiberglass construction sizes include: the 47, 49, and the 51.
Compact in design to reduce the wind drag, the top deck of the F-ONE foilboards is concaved to maximize comfort and control. The bottom is particularly shaped and uses a precisely tuned concave with side Vs, combined with a strong nose rocker to soften the impact when the board touches down. The rails are high and inverted to reduce drag when the board meets the water while edging hard upwind.
With its large volume and width, the 51 is forgiving for the beginners and offers a lot of room for feet placement. Its compact shape and the 2016 evolutions such as the pinched tail outline also make this board very progressive and suited for all levels of practice.
The 49 is targeted at riders who have already mastered their and foil and are keen to get more performances out of it. With its moderate width, this board will let you edge harder upwind with reduced weight and wind drag. Available with a carbon construction for a more responsive and featherweight board.
Official racing board of the F-ONE team, the new 45 is the ultimate foil racing weapon with its narrow outline and recessed deck bringing more control. Available with a carbon construction for performances worthy of a Gold Cup podium.
Equipped with multiple attachment points to facilitate tuning and with the all-conical KF-BOX for an easy assembly these boards offer compatibility with most of the foils available on the market.
With three sizes and two types of construction available (carbon or glass fiber), the range is perfectly suited to all types of riding levels.
Equipment
Full Pads
KF-BOX
F-One Surf Straps (Optional)
Sizes
45 Carbon (150 x 45cm) 2.5kg*
47 Carbon (156 x 47cm) 2.7kg*
49 Carbon (156 x 49cm) 2.9kg*
47 (156 x 47 cm) 3.2kg*
49 (156 x 49 cm) 3.5kg*
51 (156 x 51 cm) 3.7kg*
Mitu Pro Convertible  Surf Foilboards Series
We also decided to offer a board that was a 2 for 1. Everyone is aware that kiteboarding is an expensive sport. We have therefore decided to offer the MITU MONTEIRO Pro Model surf in 5'6, 5'8, and 5'10 in its "convertible" version (ie: equipped with a KF-BOX). This makes the ever popular Mitu Pro surfboard into an even more versatile option.
Equipment
Full Pads
FUTURES® fins
FUTURES® box
KF-BOX (+ box shutter)
F-One Surf Straps (Optional)
Sizes
5'6 (166.5 x 46.5 cm) Volume 19L, Weight 3.450 kg*
5'8 (171.5 x 47 cm) Volume 20L, Weight 3.670 kg*
5'10 (176.5 x 48.5 cm) Volume 21L, Weight 3.750 kg*
*indicative value, subject to small variations due to the custom manufacturing process.
Resources: