Source: The Kiteboarder Magazine
With the year winding to an end, The Kiteboarder Magazine just released their top stories from 2021. Included in that collection is their feature on Maxime Chabloz which was printed in January 2021 in Vol. 17, No. 3 of The Kiteboarder Magazine.
---
When Maxime Chabloz originally joined the Next Generation kiteboarding camp at the age of 13, he landed in Tarifa for the first time, relatively confident with a mixed bag of tricks featuring double S-bends, raleys and raleys to blind. At that time, these were fairly advanced moves for a 13-year-old hailing from a small mountain town in the heart of Switzerland, but right off the bat, Maxime noticed two glaring deficiencies. Unlike the other kids, he didn't know the names of his technical maneuvers, and all of the other kids seemed to be able to do these tricks in both directions. Maxime was shocked—it never occurred to him that tricks could be done to the left, as well as to his right.
Having graduated from F-One's early Next Generation camps, Maxime has been on a tear, and over the past few years, has steadily climbed the leaderboard of the GKA Freestyle World Tour. However, he is not just a master of technical handlepass riding; this year, Maxime competed in foilboarding, big air and wingsurfing events as well as jumpstarted a big mountain extreme skiing career. Having won the first and only tour stop of the 2020 kiteboarding freestyle season, Maxime is reaching the height of his career. Yet, despite his precision technicality for freestyle, he's a dangerous wildcard of natural talent, unwavering control and targeted focus in just about any discipline he steps into.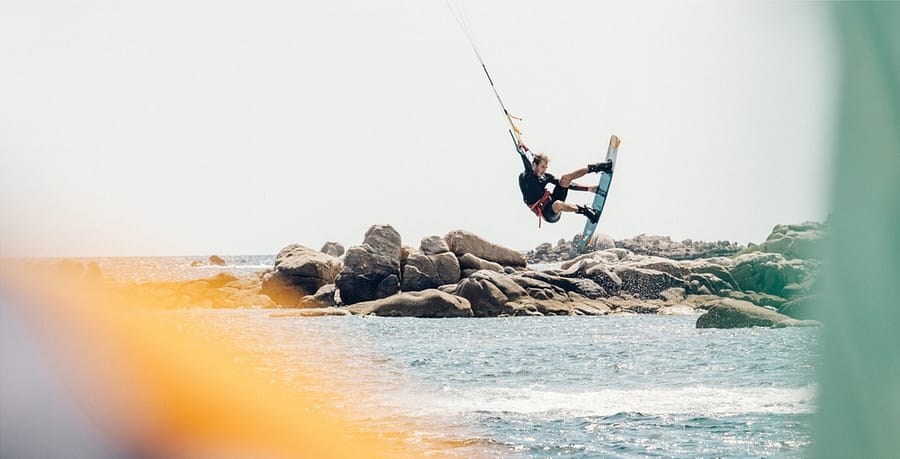 Raised in the alpine playground of the Swiss Alps, Maxime got an early start with action sports. Born in Engelberg, an iconic mountain town surrounded by high altitude lakes and ample ski resorts, Maxime started skiing at the age of two and consequently spent much of his youth driven by the rigors and discipline of competitive alpine skiing. Maxime was only seven when his dad switched from windsurfing to kiting, but Maxime followed suit and quickly became obsessed with the sport too. Maxime recalls traveling with his dad to Bordeaux on the west coast of France, driving 45 minutes on rutted roads to remote beaches where he would help his father inflate gear, rig up lines and spend hours flying trainer kites on the beach. "Back then, gear wasn't that great for kids, and it was hard to get into kiting because there were currents, the wind was often too strong or would die unpredictably." When Maxime was 10, he finally got his chance to take a kite onto the water. Having played with a trainer kite on the beach for years, he landed his first backroll before learning how to stay upwind.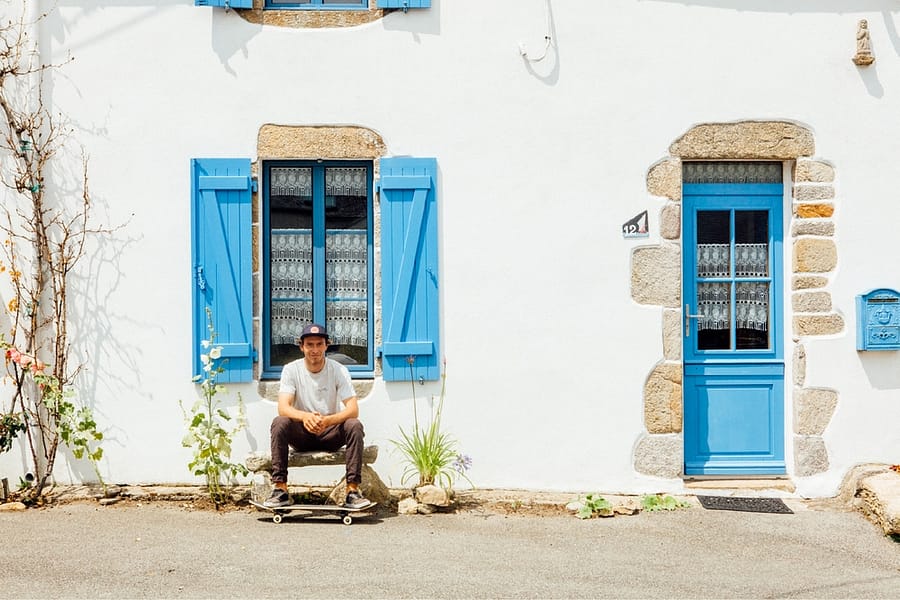 While deeply entrenched in the junior alpine racing scene, kiteboarding quickly became Maxime's passion. Notably, he recalls wanting to be a world champion from an early age. The sport didn't matter so much—for him, the focus was the drive of competition and the glory of winning. In this respect, kiting has never felt like a hobby to Maxime; from the beginning, he has wanted to be the best kiter in the world. Over the next few years, he built some solid kiteboarding skills at his home lake, and a friend in his dad's kiteboarding network set him up with the Swiss importer for F-One, who granted him a partial equipment sponsorship at the age of 11. Two years later, in 2014, Maxime joined his first F-One Next Generation camp in Tarifa, where under the coaching of Etienne L'Hote, a group of aspiring young kiteboarders learned the fundamentals of freestyle competition. Having opened up Maxime's world to the basics of competition and executing tricks in both directions, at the age of 13, Maxime entered his first competition, the French Junior European Championships in Saint-Pierre-la-Mer. For the next two years, bounded by the constraints of school, Maxime's focus remained on alpine ski racing in the winter with intermittent summer afternoon kite sessions on the crystal blue waters of Lake Uri by his house, or the occasional long weekend to Leucate with his dad. The highlight of his kiteboarding year continued to be the week-long training camp with F-One's Next Generation team. Maxime was getting significantly less water time than the other kids at the camp, so in 2015 he dropped conventional schooling and spent three months in Brazil, where he began focusing on his goals.
Coming from a background in ski racing, Maxime was accustomed to physical training sessions five times a week and the guided training format of coaching. While kiteboarding represented a well-needed change from the confines of alpine racing, Maxime structured his time in Brazil for competitive success and connected with Fabio Ingrosso, one of kiteboarding's first professional tour coaches. "I needed a babysitter," recalls Maxime. "It's really hard to be so young, to travel and stay disciplined on training, and not just go for fun." Looking back, Maxime was probably one of the first of his generation to have a kiteboarding coach on tour, yet for him, he was so used to the structure that coaching provided, it just seemed normal. Over time, others would join in the training, like Italy's Gianmaria Coccoluto, but for the most part, Fabio remained focused on Maxime and the young up and coming female world champion, Mikaili Sol.
For most kiteboarding athletes, the Brazilian training season is an informal routine of hanging out at the lagoon and socializing before and after casual riding sessions. While there's progression in this open environment, it doesn't reflect the mental, temporal and physical pressures of competition. With Fabio, Maxime acknowledges that he and Mika would train in ways that they would never do independently. For instance, they would go to the lagoon with a set start time for a heat. From the moment they arrived, they'd have to watch the clock, moving through a set routine of rigging and mental preparations before their heat window and then perform tricks within the format of a regular contest. The three would then score each session, tearing apart everything from the trick list, order of tricks and the exhausting details of execution. As Maxime explains, "Going to the lagoon with friends, riding a bit and crashing a million times—that's not training—that's just going to a lagoon to kite." Typically in the pre-season, Maxime gears his training regimen to improvisation, learning new tricks and integrating new grabs because there's more time for creative riding with more repetition, but in the run-up to competitions, his training sessions are shorter with lower reps. "Before a competition, I'll do five set tricks, and if I don't land them on the first try, then that means I'm not ready for the comp." In his experience, if he spends another three hours on the water crashing, that's not going to help him perform in the contest. Leading up to his first event win of this year at the Ilha Do Guajiru competition in Brazil, Maxime's training sessions typically lasted 15 to 20 minutes, and everyone seemed to notice. "People were looking at me weird, saying 'he isn't training.'" Contrary to appearances, Maxime was training, teaching himself to perform flawless heats in which he nailed every trick on the first try…
. . . Read the rest of Maxime Chabloz: In Pursuit of the Next Title at www.thekiteboarder.com