We couldn't be more proud of Justine Dupont for her performance and win at this year's Nazaré Tow Surfing Challenge. A big congratulations from the entire Manera team!

The conditions were spectacular for the Nazaré Tow Surfing Challenge on Monday, December 13th as Manera's Justine Dupont won the women's performance award in heaving surf as crowds lined the iconic cliff in the small Portuguese town that has become an epicenter for big-wave surfing over the last decade.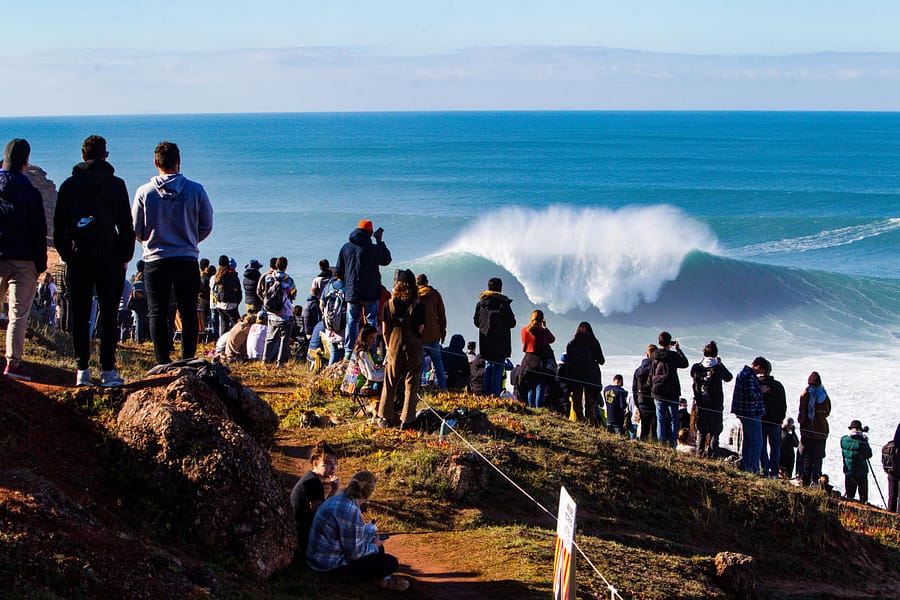 France's Justine Dupont's attack on the rights and lefts and impressive carving on the massive wave faces, proved once again unmatchable as she claimed her second Women's Best Performance award.
Suited for Nazare's cold 58°F winter waters and strong offshore winds, Justine Dupont, sported her Manera Hooded Magma 5/4/3mm wetsuit featuring Manera's innovative ponytail flap, to claim victory at the Nazare Tow Surfing Challenge in perfect, giant Portuguese surf.
Dupont was also more than prepared for the historic day – along with her partner Fred David, Dupont now lives in Portugal for half the year, just so she can surf Nazaré whenever it's good. That commitment has certainly paid off with this most recent win.
"This is definitely team work and Pierre (Rollet) was amazing," Dupont said. "We started coming here to Nazaré together a long time ago so it was awesome to partner with him today and with Fredo on the safety ski. We had so many friends around and it was just so sick to have all our favorite people there to share this."
Justine's favorite cold water wetsuit:
Women's Magma Hooded 5.4.3mm
The MAGMA HOODED 5.4.3mm is the weapon of choice if you want to spend the whole winter in the water. The Magma+ is one of the best materials out there: not only does its fleece works as an effective insulator and heat generator, but it is manufactured to be extremely flexible to keep even the thickest suit very stretchy. In addition, it dries 30% faster than a classic fleece so you'll never have to put on a wet wetsuit again. It is the wetsuit of your choice if you don't want to stay home during winter sessions.
The Women's Magma Hooded 5.4.3mm features Manera's innovative, watertight, ponytail flap so you can pull your ponytail through the back of the hood to avoid the conehead look.
Follow Justine and her latest big wave expeditions on instagram HERE.