PRO MODEL Mitu MONTEIRO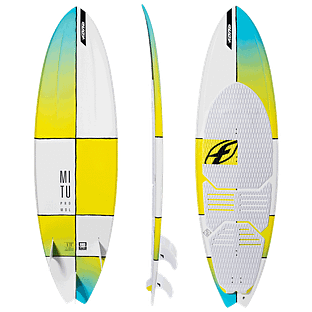 For its 3rd edition, Mitu MONTEIRO's pro model surfboard keeps on getting better with some new refinements on the bottom shape and some stunning new graphics.
This bestselling and high performance board has been specifically designed for strapless riding from the bottom to the deck and will boost your riding skills in freestyle, waves and free surfing! The Mitu Monteiro Pro Model receives the proven HD FOAM FLEX COMPOSITE construction which improves the board so much thanks to its flexibility and comfort. This includes a high density foam sandwich, with optimized flex to improve reliability, provide outstanding comfort and better maneuverability while keeping the boards lighter. The HEEL SHOCK ABSORBER featured on the deck softens all impacts and landings for the rider while increasing the board durability. With the compact outline and rounded nose, we have achieved a shorter board which maintains great directional stability.
Looking at the bottom, we have used a very deep single concave that extends all the way back to the fins. This guarantees an early planning with sharp accelerations on and off the surf while helping out dealing with the chop. The two smaller sizes, 5'4 and 5'6 benefit from a bit more rocker on the tail to achieve more maneuverability and control, especially in the surf. On the two larger sizes, 5'8 and 5'10, the concave has been reduced slightly around the fins to make the board easier and more progressive in the turns and while carving.
Width is optimized for each size to make the tricks easier and get a more responsive board. Yet the general outline remains rather wide to get a lot of lift and make the most of the waves' energy.
A lot of work went into the deck with the CAMEL DECK shape that helps nesting your feet into the board to achieve great control. The grab rail at the front helps out during the tricks. The Mitu MONTEIRO boards are all equipped with a tri-fin setup for a faster ride and a lighter weight for the tricks.
Sizes
5'10" 177 x 48.5 cm 21 L 3.45 kg
5'8″ 172 x 47 cm 20 L 3.3 kg
5'6″ 167 x 46.5 cm 19 L 3.15 kg
5'4″ 162 X 46 cm 18 L 3 kg
Mitu MONTEIRO Convertible Series
We also decided to offer a board that was a 2 for 1. Everyone is aware that kiteboarding is an expensive sports. We have therefore decided to offer the MITU MONTEIRO pro model surf in 5'6'' / 5'8'' / 5'10'' in its "convertible" version (ie: equipped with a KF-BOX). This makes the ever popular Mitu Pro surfboard into an even more versatile option. This model is growing in popularity due to how efficient it can be. Foil in the morning, then surf the same board when the wind picks up in the afternoon!
"Convertible" Sizes
5'6'' 167 x 46.5 cm 19 L 3.55 kg*
5'8'' 172 x 47 cm 20 L 3.7 kg
5'10'' 177 x 48.5 cm 21 L 3.85 kg*
Equipment
Full pads
Future fins
Futures box
F-One surf straps ( optional)