Kiteboarding 4 Cancer 2017
July 14-16, 2017
Hood River, Oregon
Harnessing the powers of the wind for a great cause! F-One / Manera is taking part in the 11th Annual Kiteboarding 4 Cancer, North America's largest kiteboarding event, in Hood River, Oregon July 14-16. You don't want to miss this unique and compelling event in the beautiful Columbia River Gorge benefiting athletes 4 cancer's Camp Koru young survivorship program.
Help the F-One & Manera Teams reach their fundraising goal! Donation Page Link
Anyone can fundraise for Kiteboard 4 Cancer!
(No kiteboarding required!)
This year, we #KiteItOut for several new programs + Camp Koru:
Legacy Program: Retreats for young survivors in advanced stages of cancer.
'This is Life' Program: A workshop-based skills-building retreat for post-cancer life.
'Kite it Out' Program: A restorative, one-day kite-flying retreat for young survivors.
Camp Koru (Cornerstone Program): An empowering, week-long community-building program for young survivors.
How to Register as a Kiteboarder
Pick 1 of 2 ways to register for Kiteboard 4 Cancer's Kite Derby on July 15:
FUNDRAISE FOR ENTRY (HIGHLY ENCOURAGED)

As an individual: Create a fundraising page and raise a minimum of $500. Fundraising is easier than you think, and we provide you with individualized support and a fundraising guide!
As a team: Teams of 4 kiters only must raise a minimum of $500 each.

Early Bird Registration: $95 individual/$380 team until June 1. After June 1, $125 individual/$500 team.
Register Online: 2017 Kiteboarding 4 Cancer #KiteItOut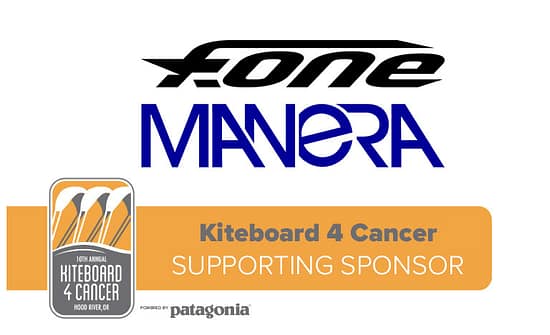 Meet our F-One & Manera Team Members:
Our individual team members have combined forces to create this awesome fundraising team for Kiteboarding 4 Cancer 2017. Together, we will raise more money for Athletes 4 Cancer than we ever could alone!
We are very excited to have two teams this year, F-One Team & Manera Team at the KB4C Event! Create awareness and help generate funding for some incredibly deserving individuals. Please share this webpage as often as you can.
If you can't make a donation at this point, help us reach our goal by sharing this page on Facebook and Twitter! Or, even better, send an e-mail to friends you think might be interested in contributing and include a link to our page. Donate now!
Help the F-One & Manera Teams reach their fundraising goal!
F-One Team Donation: Link
Manera Team Donations: Link
Thank you so much for your generosity! We look forward to seeing you in Hood River, Oregon.