Once again the new 2015 Madeiro Pro Model SUP will amaze you! Check out all the NEW specs and sizes for 2015 including 7'5″, 7'7″, 7'11", 8'3″, 8'5″ and 8'8″. For 2015 the Madeiro PRO Series has undergone minor changes to fine tune this board to meet and excel past the standards of our team riders. This is Poenaiki's go-to ride. He just placed second in the HB Pro a couple weeks ago riding the 7'5 . This board is unreal, just see for your self! Changes for 2015 include a few new sizes, fin-tuned distribution of the foam, enhanced HD Foam layer on the bottom to make this full carbon/bamboo pro model extra durable and ready to take what ever you have to throw its way. Ride what the pro's ride and check it out!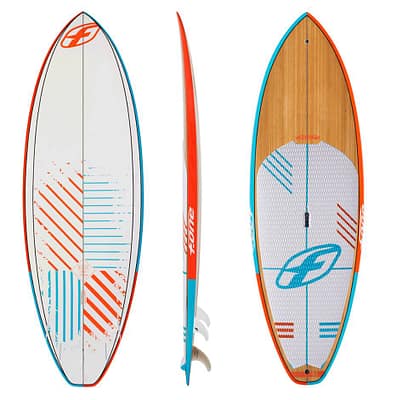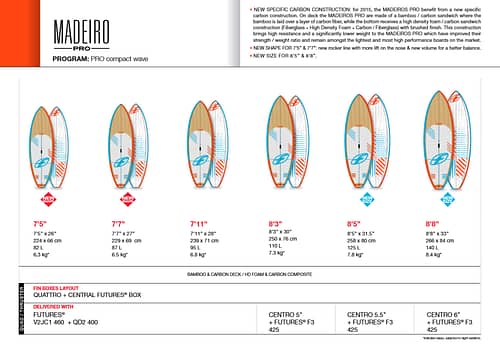 7'5'' x 26″
224 x 66 cm
82 L
6.3 kg*
8'3'' x 30″
250 x 76 cm
110 L
7.3 kg*
7'7'' x 27″
229 x 69 cm
87 L
6.5 kg*
8'5'' x 31.5″
258 x 80 cm
125 L
7.8 kg*
7'11'' x 28″
239 x 71 cm
95 L
6.8 kg*
7'11''
176.5 x 48.5 cm
21 L
3.45 kg*
NEW SHAPE FOR 7'5'' & 7'7'': new rocker line with more lift on the nose & new volume for a better balance.
 NEW SIZE FOR 8'5'' & 8'8''.
BAMBOO & CARBON DECK / HD FOAM & CARBON COMPOSITE
NEW SPECIFIC CARBON CONSTRUCTION: for 2015, the MADEIROS PRO benefit from a new specific carbon construction. On deck the MADEIROS PRO are made of a bamboo / carbon sandwich where the bamboo is laid over a layer of carbon fiber, while the bottom receives a high density foam / carbon sandwich construction (Fiberglass + High Density Foam + Carbon / Fiberglass) with brushed finish. This construction brings high resistance and a significantly lower weight to the MADEIROS PRO which have improved their strength / weight ratio and remain among the lightest and most high performance boards on the market.