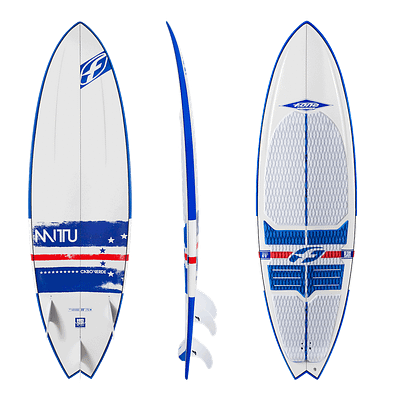 Had the pleasure to ride the 2015 Mitu Pro 5¹6 over the weekend . First notable impression was how smooth the board cuts through chop, it's like slicing through butter . I had two days of varying conditions, one  light wind with small surf, and the second flat water bump and jump conditions. I believe this board performs extremely well and is super light and responsive under your feet. Rode strapless and the pads are super comfortable with ample grip!  I was able to pull off multiple mini airs and the occasional "break out the fin" cutback's, felt like I was ripping on my skateboard!
The new HD foam flex composite gives this board a pure surfboard feeling all the way , truly a breakthrough addition for this year. Also eliminating the Bamboo entirely in the 2015 line-up has really lightened the boards up. – Bruce Johnson
I'm a east coast boy and the 2015 Mitu 5'8 is the go to all-around weapon of choice for me! Due to the new channels in the bottom the Mitu Pro not only plains super fast in light wind, but also holds rock solid in nuking conditions. The new HD Foam flex construction is bomb proof! Perfect for those areal maneuvers and aggressive riding. This board will take anything you have to throw its way, making the Mitu one of my favorite boards for 2015. – Billy Ackerman
The BAKS Crew can't wait to demo the 2015 surf series with a shop near you! Comment, share and let us know what you think about the 2015 products from F-ONE!