Source: Tonic Mag
At A Glance
The Rocket Wing V2 is the flagship board for wing sports in F-ONE's extensive line-up. It's a dedicated wing foil shape with some interesting design features to help you get the most out of it. It's available in a multitude of sizes, from a 6'6″ with 140L down to 44L, measuring in at a very short 4'8″. Unlike some brands, the designs remain constant throughout the sizes; however, it is worth noting that the 4'8″ up to the 5'5″ are available with foot strap inserts as an option.
Interestingly, this board's volume is evenly distributed throughout; it isn't nose heavy or tail heavy, as we have seen on some designs from other brands. It's also not ridiculously thick; the 25″ width and even distribution of the volume leads to a smooth looking shape without some of the trademark "thick bits" we see elsewhere. The bottom shape features a subtle V in the nose with bevelled rails and a small amount of tail kick at the back.
Featuring the popular Bamboo Construction we have seen across the F-ONE board range for a few years now, the Rocket Wing V2 is light at 5.3 kilos but also very durable. A full deck pad offers plenty of grip, and has a decent length US foil track along with a carry handle in the base.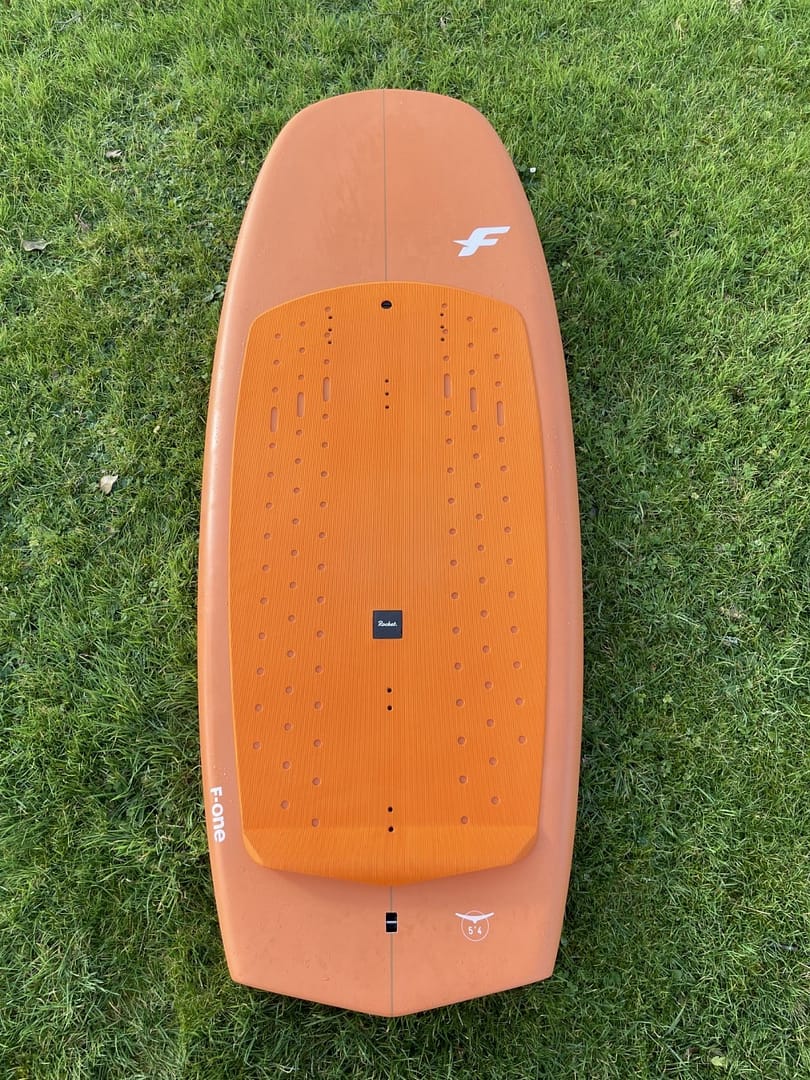 On The Water
Compared to some boards we've tested, the shaping on the F-ONE is incredibly subtle; however, this translates to a very well rounded performer in the popular 75L size arena. The flat deck is really comfortable on your shins when you are starting, and for me, at 85k wet, it's an easy board to start and get foiling on. There is enough volume to make it work with good pumping skills in light winds while being a very stable platform in choppy conditions too.
Being a little lower in volume if you are stepping down, you will of course need to be wary of your weight distribution, but the overall even spread of volume makes this a very easy board to get to grips with. Once upon the foil, the transfer of power is smooth and direct, and the board gives you lots of confidence.
The slight kick in the tail helps to prevent it from catching when pumping and the smooth rocker in the nose with a little bit of volume stops it digging in when you touch down. The bevelled rails make hard carves easy, and we think a lot of riders will love this board. While it lacks some of the radical contours out there, it does everything it needs to exceedingly well.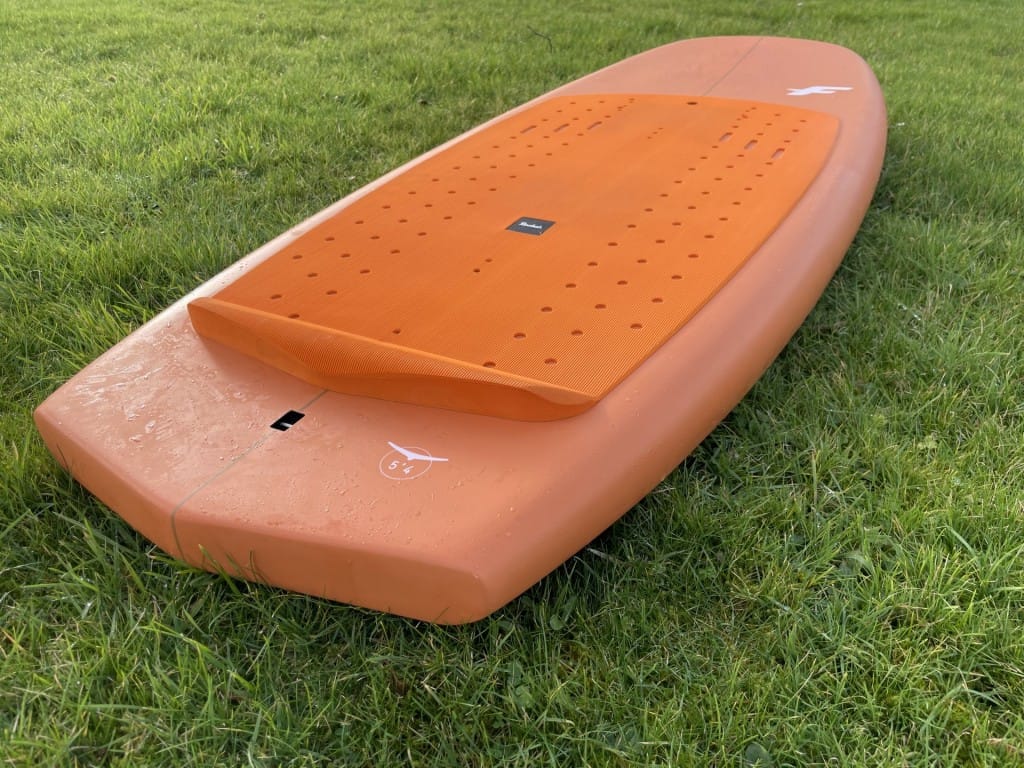 Overall
There is a lot to love here; a modern shape that isn't outrageous. It has some subtle lines and contours that are very appealing to the eye that translate well to a fun ride on the water. Perfect for experienced wingers over 85 kilos looking for a first sub weight volume board. It works well in light winds as that volume is so well distributed when the wind picks up the lack of chunk means it doesn't get caught or blown off. We had great fun on this board, and as a one wing, one prone foil board quiver, it performs exceedingly well.
This review was in Issue 11 of Tonic.