TKB Product Review: Manera Eclipse Harness | surf setup
August 1, 2019
Source: thekiteboarder.com
Manera Says:
Having worked on ergonomic designs for a while, our goal was to push our frame concept to more stiffness, allowing a better support of the back & a lower fit. But something 100% hard was not an option: Our back needs some adaptability & human morphology is unique.
So here comes the ECLIPSE, a skillful balance between stiffness & flex that brings support where you need it and the freedom to move the way you want.
For more info visit: www.manera.com
---
TKB Says:
The Eclipse is Manera's take on the 'hard shell harness'. The semi-rigid design features Manera's 'Adaptive Shell' technology which allows its stiffness to fade from rigid in the center to softer around the edges resulting in support where you need it and more flexibility where you might want it. The external adaptive shell allows the harness to flex horizontally (to wrap around you) but not vertically, providing the vertical stiffness you need to support your back. Although the Eclipse isn't quite as low-profile as some of the other brands on the market, instead of being confined to the narrow area of your lumbar, the slight amount of additional vertical length allows for added support both on your upper and lower back.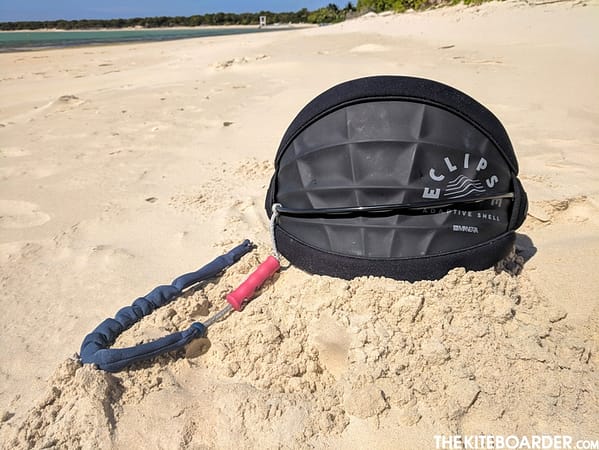 When we first put this harness on it felt similar to the glorious feeling of wrapping ourselves in a memory foam mattress. It's plush interior features 'gel foam' which is soft, comfortable and form-fitting. The 'gel foam' wraps around the edges to the external shell on the outside to ensure a smooth, soft and rounded area at every part that touches your body, ensuring there are no 'pokey' areas and nothing to dig into you.
While the Eclipse harness comes stock with a hook and standard leash, for our 2019 Surf Test, Manera hooked us up with their new Sliding Hook and short leash.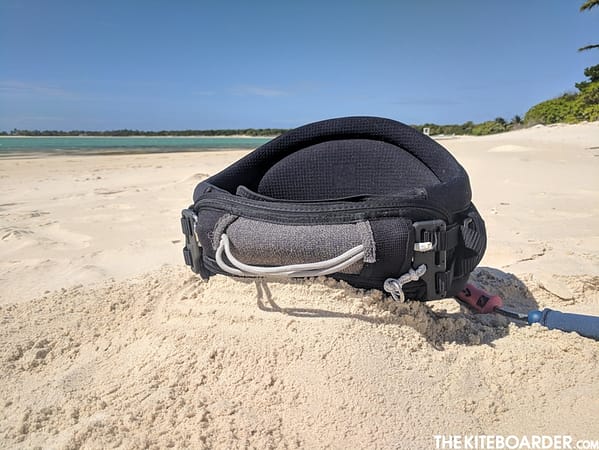 The Sliding Hook as Manera calls it, is their version of a rope spreader bar. Extremely lightweight, the spreader bar features a Kevlar backing for friction resistance and double abrasion-resistant ropes for an extended lifespan and a durable and controlled slide. (*We believe this is the only rope slider on the market with double rope for added durability which is key because we had another brand's single rope design give out on us a few days prior.) With 4mm spectra inside and a 6mm special abrasion-resistant sleeve on the outside, both ropes are designed for maximum durability, tension and tearing resistance. After a month of riding 2+ hours per day, our rope is showing no wear whatsoever, which we take as a good omen for a long service life.
These Sliding Hook rope spreader bars are ideal for spots with side-on wind where you are trying to face the wave and get the extra bit of twist to allow you to stay riding upwind on the wave when the wind wants to pull you in the other direction. Manera also offers 24cm, 28cm and 32cm rope replacement parts if you want to experiment with various rope lengths and their effects on your body's range and movements. While the Eclipse harness is already relatively lightweight, we noticed that swapping to the slider rope significantly lightens the weight of the harness (as there's not big metal hook).
For our Surf Test, Manera also sent us their surf leash, a short 4cm/16″ leash, which is about half the length of their medium leash that comes standard with all Linx bars. Designed for those who don't unhook, this leash is optimal for wave riders, foilers and freeriders. We found this super beneficial as once we hooked in, we barely knew it was there. With no more leash drag and far less chance of getting tangled or caught around your knees while water starting or hitting the lip, the minimal design of the (short) surf leash is ideal whether you're kiting in waves or just freeride cruising.
Both Manera's hook and sliding hook spreader bars feature an attachment point for your leash on the left hand side which means no more fumbling around reaching behind you to release; your safety release handle now sits just below your left hip.
Overall, Manera's Eclipse harness is an excellent option for those looking for a comfortable, supportive variation on the hard-shell harness, and adding the sliding hook and short leash make it the ideal setup for the wave, foil or free rider.