Source: thekiteboarder.com
March 18, 2019
---
F-One 51TS v2 Foilboard
Sizes Available: 5'1″ x 20″
Sizes Tested: 5'1″ x 20″
F-One Says:
The F-ONE 51 TS foil board is a unique model blending the great qualities and resilience of a tough topsheet construction with the ease of use and performance. The bottom V and generous rocker on the nose also make the occasional touch-downs more manageable. Two new features on the new 51TS board are the inclusion of twin tracks to mount any foil equipped with a 4-blot top plate. Also footstraps inserts have been recentered in order to offer a better stability. Built around an injected foam core with protective top and bottom sheet layers, the 51 TS is ready for a life-long service. The solid cap construction will preserve the edges of the board when the latter is laid on its side together with the foil while ashore.
Length is important to keep firm directional control and width helps providing some tolerance in feet placement. So at 156cm long by 51cm wide, this board has enough of both to offer control and stability to help manage the foil with ease. Its slim design allows for easier water-starts as the board sits more stable on its side and results in more inflight control. The bottom V and generous rocker on the nose also make the occasional touch-downs more manageable. The 51TS foilboard is the ideal first board purchase to start foiling.
Visit for more info: http://www.f-one.world/product/foilboard-51-ts
Our Testers Say:

"Great neutral buoyancy board, perfect for learning and maybe surf, but a little too much for intermediate and advanced riders who prefer smaller boards." // Davey Beard

"Comfortable deck and easy to move in the water when waterstarting. Thinner construction but still feels like it has decent volume. Great beginner board." // Kristin Vincenzo

"Big deck for easy footwork and surviving touch/bounce and goes. Easy peasy for starting, riding on water and feet switches, great first setup." // Dylan Dobbyn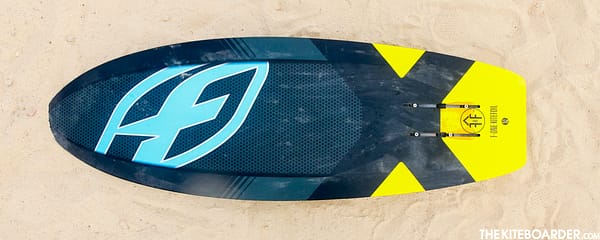 ---
Tkb Says:
The 51TS foilboard gets its name from its width. At 51cm wide and 156cm long (5'1″) this board comes in durable twin tip style construction with thin rails that feature a little bit of very gentile chime and a subtle concave through the bottom. The 51TS features a fairly good nose scoop in front of you with some good rocker which makes this board an ideal entry level board because of its resistance to porpoising as it is really difficult to stuff that nose all the way underwater. The construction is durable which makes it ideal for the person whose just learning how to handle a foilboard — anyone who's been down that road knows that just bringing a foilboard through the parking lot and in and out of water can give it quite a beating. The 51Ts sports a ¾ deck pad and comes with a duct/windsurfing/racing stance with five forward/aft inserts in the front and the backfoot gets three forward/aft settings down the center line. The pad has a nice level of plushness that makes it comfortable riding the board for a while but also gives you good foot control and input into the board and therefore allows you to control the board/foil with confidence. With its thin rails, the 51TS handles rail contact with the water fairly well; not quite as well as the surf-style constructions with chimed rails, it's just that accidental touchdowns while edging are not quite as smooth but certainly not game ending. In terms of volume, the board has fairly low volume; when it comes to waterstarts the board sinks in the water and some people find that's easier to waterstart than a board that has a ton of buoyancy. Once you are standing on the board accelerating towards foilup speed that is when volume is always your friend, yet the 51TS has a wide enough outline and long enough nose to make acceleration quite easy to reach foil up speed and get in the air. In this respect, the 51TS is a good board for someone in the beginner and intermediate stages of foilboarding. Those foilers with more advanced skills might be looking for something that's a little bit smaller with less swing weight in the nose for more aggressive turning, and if that's the case you should check out the F-One Pocket board because that's probably your ideal candidate. Overall the 51TS has a nice flexible feel. It's not quite as stiff as some of the surfboard foilboard constructions out there but it offers unparalleled durability with all-around good handling that works for entry-level and intermediate foilers.