Source: thekiteboarder.com
March 13, 2019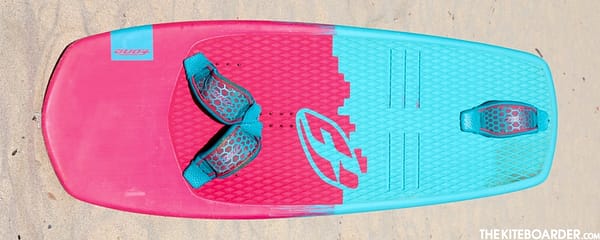 ---
F-One Pocket Foilboard
Sizes Available: 3'11 x 18.1″ 18.9L, 4'3 x 18.5″ 21.1L
Sizes Tested: 4'3 x 18.5″ 21.1L
F-One Says:
"The F-ONE Bamboo Pocket foilboards were crafted to reduce the momentum and drag of the board to bring your maneuvers and carving to the next level.
Minimum size for maximum fun!", this is the mantra behind these boards. By reducing the length it is possible to enlarge significantly the possibilities for all kinds of maneuvers and further engage into carving. These pocket boards share similar DNA on the bottom with a double concave and some distinctive bevels. Their outline is adapted specifically to this very compact shape, with the maximum width carried almost all the way forward. This keeps the boards very easy to use and accessible to all intermediate and advanced riders.
Built with a bamboo sandwich laminate over a lightweight EPS core, these boards are fitted large deck pad for total comfort and they come with a track system on the bottom to match any foil equipped with a 4-bolt top plate. Very playful with immense potential for all kinds of tricks or simply for carving some lines, these boards are available in 130×47 and 120×46 sizes. They will soon be the obvious choice for a large number of riders who like to play with the freestyle and carving potential of foiling.
Visit for more info: www.f-one.world/product/foilboard-pocket
Our Testers Say:

"Light, shortboard which is really playful; great for pumping, carving and leaning over hard upwind." // Dray Murray

"For a new foiler, this was comfortable, stable and easy to handle in the water for waterstarts." // Kristin Vincenzo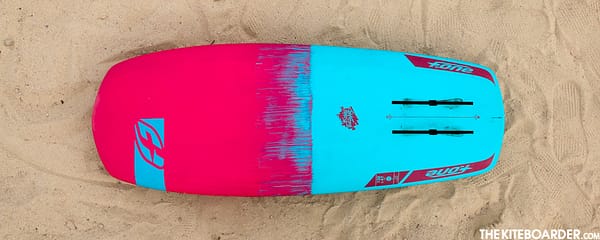 ---
Tkb Says:
The F-One Pocket Foilboard is one of our favorite freeride boards at 130cm x 47cm with 21.1 liters of flotation. The Pocket is a super fun foilboard that finds a happy medium between flotation and keeping the volume minimalist for more intermediate to advanced riding. The Pocket has enough volume to get a confident beginner through to the intermediate level, past those initial learning steps. The Pocket features chimed rails that make accidental rail touchdowns easy to recover from. The board has a little bit of volume so there's some buoyancy for waterstarts, which if you're riding a higher aspect wing might be important to get up to lift off speed. The Pocket features a small amount of rocker in the nose that will help you keep the board from pearling but it's not super aggressive, so repeated porpoising will risk burying the nose. The Pocket features a nice ¾ deckpad with a diamond grip. It's got a nice amount of plushness but yet is thin enough to give you good contact control to transfer your inputs to the wing. It's got five forward/aft insert options for your front footstraps in the ducked windsurfing/racing stance and three forward/aft options centered in the back, so there's a fair amount of adjustability in the straps. Overall, the shorter length and low volume feels really good for carving and turning with a minimalist outline that feels nice and crisp with all inputs going directly into the foil. While the board is geared to the intermediate and advanced riders, we believe confident beginners could use the Pocket to get through the initial stages of foilboarding.