Can you give us a little background on Relic Surf Shop? How was it started and what's your vision for it?
We had started surfboard rentals from our Inn and the demand in Ucluelet was needed to avoid the drive to Tofino to get anything surf related. In 2008, we decided to open Relic Surf Shop to operate year round to provide the community with the surf essentials, rentals and knowledge to people visiting Ucluelet. The vision for Relic is to continue to offer a high standard of service and knowledge to the community also to achieve long term relationships with our customers, and to support the community through volunteering and supporting events.
You have two shops, one in Ucluelet and another in Tofino/Ucluelet Junction. Why two locations and how do these two shops differ?
The Junction location (JX by Relic) focuses on summer essentials for our beaches. It's also a great spot to stop if you forgot anything leaving town like wax, fin keys, leashes, or a coffee at the food trucks nearby so you don't have to come all the way back to town. The Ucluelet shop is open all year and offers everything needed for surfing all year.
What's your favorite part about owning a surf shop?
Being stoked to be at work every day and be passionate about what we are doing. It's all about having fun working at the local surf shop.
"The vision for Relic is to continue to offer a high standard of service and knowledge to the community."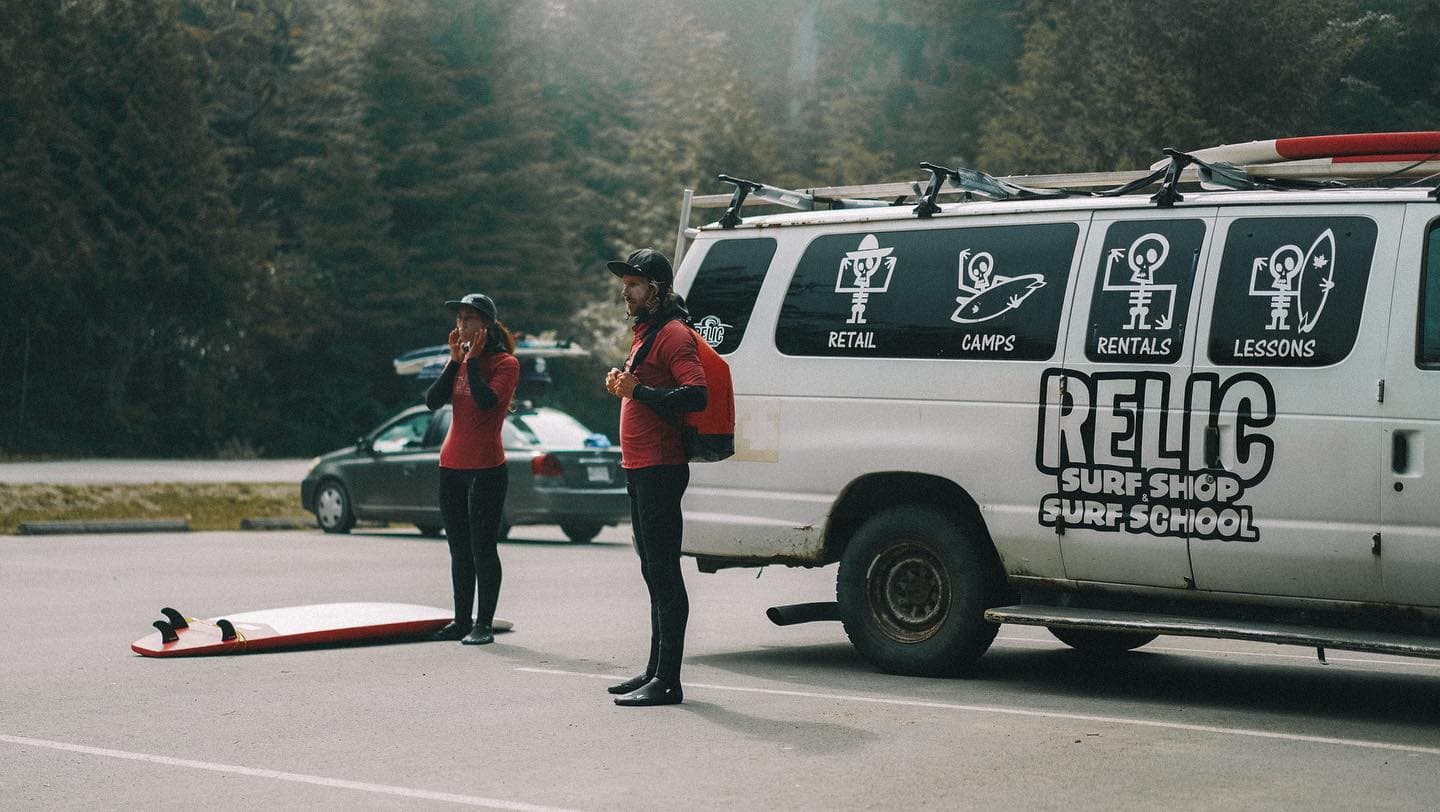 How do you feel your business fits/reflects the community?
Full time, Ucluelet has about 2000 residents and being able to help anyone of those residents with their surfing needs and supporting their businesses in return is how we best fit the community.
When is the best time of the year to visit and surf Ucluelet and the surrounding beaches?
It's great to visit all year long; winter surfing is peak storm season but you must enjoy constant grey skies and rain, summer is the best for small waves at every beach, but spring and fall is where it's at.
What are your favorite local surf spots?
Any of the beaches nearby are incredible as we get swell all year round and each has its own good day. Somedays (or weeks) can be a struggle to get out the back but it keeps us in shape and lets us appreciate the good days.
"We are producers of stoke by giving our visitors the opportunity to connect with nature."
Can you tell us what your favorite Manera product has been?
The 6/4 Meteor Magma has been a game changer when the Northern Pacific whips up the NW wind and the mountains around Ucluelet have been covered in snow. The balance of flexibility and warmth makes it the perfect suit for the Canadian beach breaks.
Is there a specific Manera product that your shop employees gravitate towards?
When we get to take our hoods off for the few months of the year and the sun shows up, we get to put our 'warm water' suits on and wear the 4/3 Seafarer. It feels good to wear something light and feel closer to the water.
Is there anything else we should know about Relic Surf Shop?
Here at Relic we don't only consider ourselves a surf shop. We are producers of STOKE by giving our visitors the opportunity to connect with nature. Partnering with our local Surf Rider chapter and the Ancient Forest Alliance to protect the environment in which we get to play in. Participating in local beach clean ups, providing a space for people to drop off their retired wetsuits to be shredded and reused, and repurposing old surf accessories and wax.
RELIC SURF SHOP & SCHOOL, UCLUELET
1998 Peninsula Rd, Ucluelet
V0R 3A0 BC – Canada
(250) 726-4421
info@relicsurfshop.com
http://relicsurfshop.com