This 'Dealer Spotlight' takes us to Cocoa Beach, Florida to catch up with Good Breeze owner Billy Bosch. Having founded Cocoa Beach's largest and oldest kite shop, Billy has a long history of instruction and retail in the Central Florida windsports community. We caught up with the Good Breeze founder to learn more about the history of the shop and the latest trends in his market.
Can you give us a little background on your shop/school, how it was started and what your vision for it is?
I started Good Breeze while getting my engineering degree at the University of Florida. I started by teaching friends so I could sell them my gear and get newer items. While working as surf instructor during my summer breaks, I was very accustomed to teaching water sports. It evolved with a relationship that formed with the Ron Jon Surf School. Teaching is a passion of mine and I quickly realized that running a shop and school would most likely be a better lifestyle choice than working as an engineer. My vision is to continue to grow, maintain strong roots in our local community while expanding our online presence.
What is your favorite part about running Good Breeze?
My favorite part would have to be all the amazing people I've met and places these action sports have taken me. The industry makes people happy and that makes us happy! Its also amazing having access to all the newest and latest gear!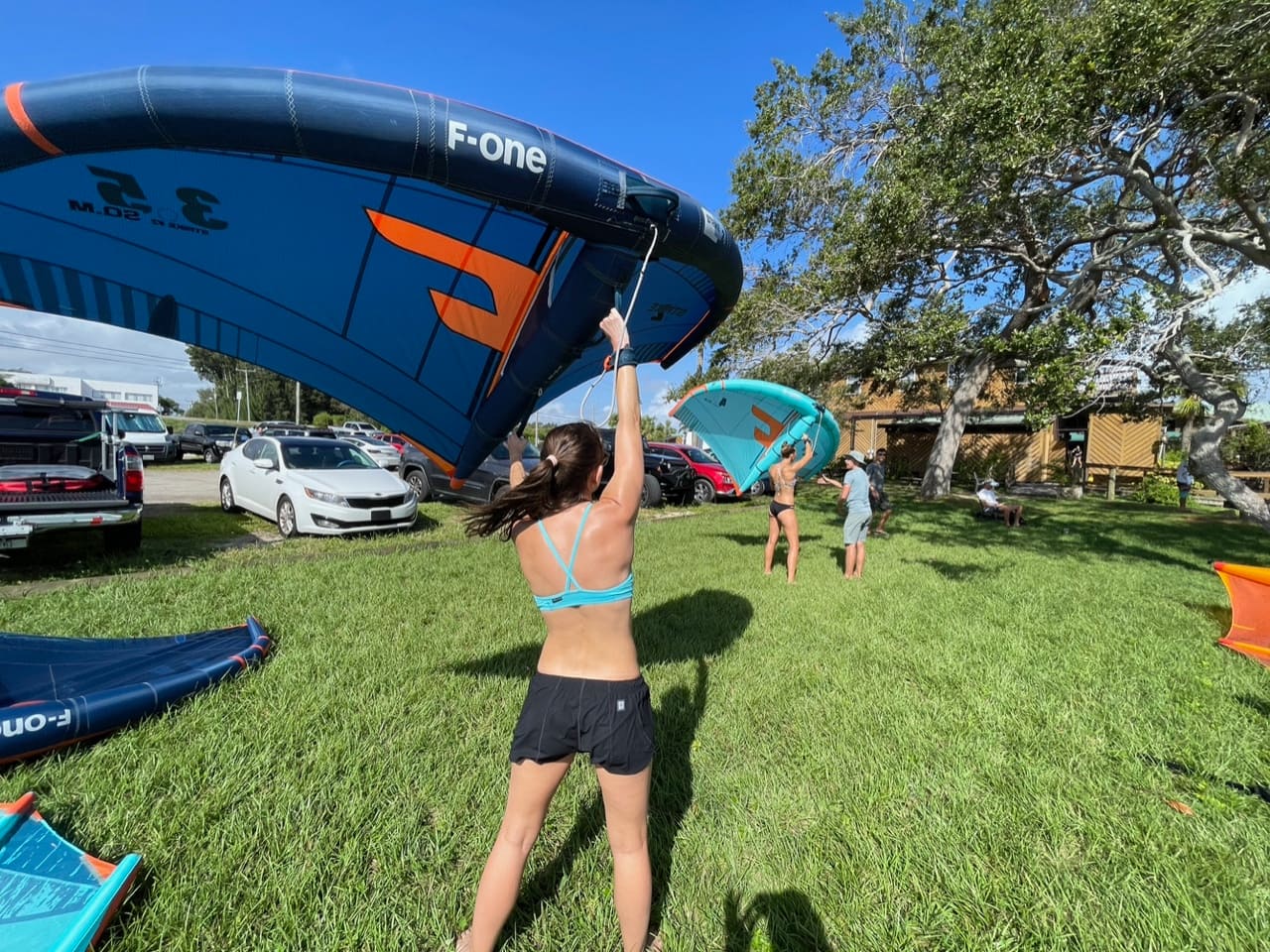 What makes your location special?
Cocoa Beach and the Space Coast is magic. We are close to Orlando making it an easy travel destination with tons of other activities. For kiteboarding and winging, we have the Banana River Lagoon which offers large bodies of relatively shallow and flat water. This makes it a great location for both learning and advanced riders. Our spot known as the 520 Slick has become a very well known kite spot. Central Florida also has the ocean side which can offer really fun waves for both kitesurfing and epic foil surfing! We really get the best of all worlds and we have mostly warm year round!
When is the best time to visit and how many days of riding per year do you get in?
I think the best time to visit is probably spring. It's warm, windy and people are out and about. Plus we have been hosting a Foil Surf Racing League event which is really fun (March 8-12)! Winter can be really good as well but maybe bring a 3/2 wetsuit. We get quite a bit of riding in. If you foil surf, wing and kite…you can ride almost everyday.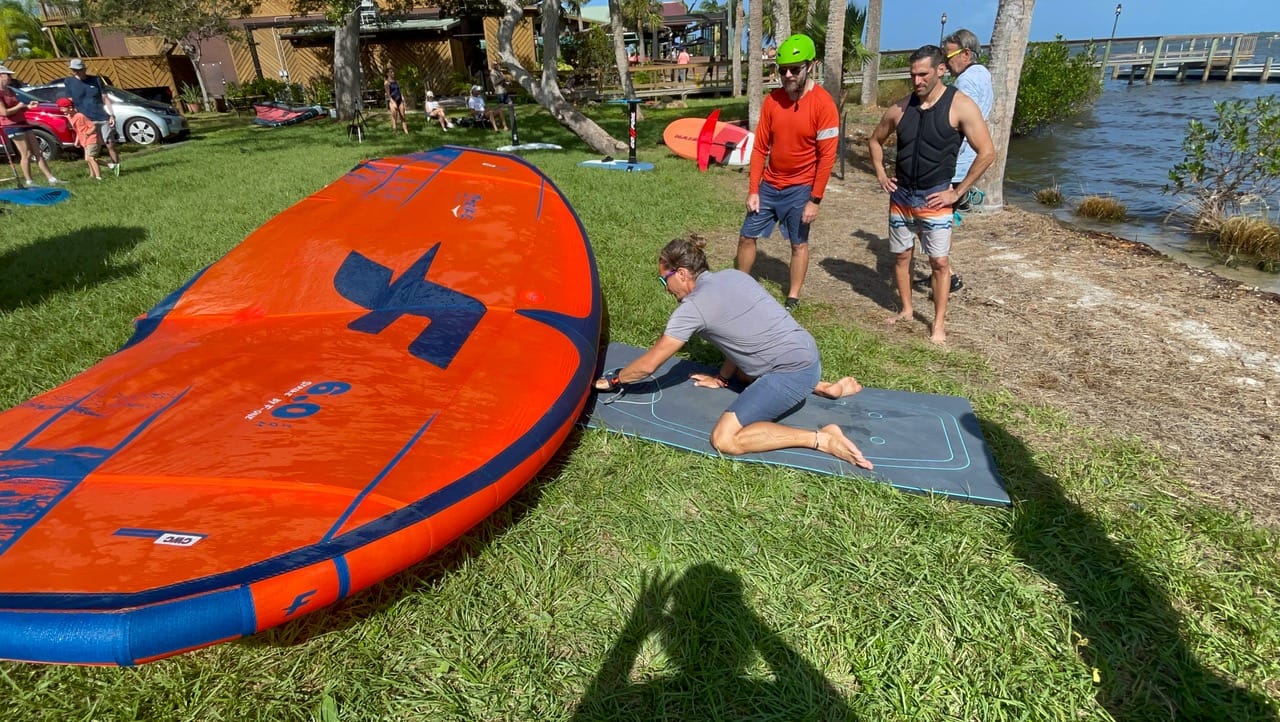 How do you feel Good Breeze fits/reflects the community?
Cocoa Beach is somewhat known as a "Surf Town" so we fit right in. It is home to 11x World Surf League Champion Kelly Slater (who has spent some time in our shop). We have a licensing agreement with the world's largest surf shop to do business as Ron Jon Kiteboarding. We are active with many local events such as Surfers For Autism and the Beach N Boards Fest. Being the closest beach to Orlando, we also host a large amount of travelers from all over the world.
What drew you to offering F-One products in your store/school?
F-One has certainly been up there in the top brands for kiteboarding for a long time. Now with the emerging winging and foiling market, people are coming into the shop daily asking for it. We think it's a great fit for a well rounded shop like Good Breeze.
Can you tell us what your favorite F-One product has been?
I have to say it's the Strike CWC wings. We do get a great deal of marginal wind conditions in the summer months and these are a game changer! I was also lucky enough to try a prototype foil which I probably can't get into detail about, but it certainly got me excited!
Is there a certain product that the shop instructors fight over the most to use?
We just added the Strikes to the school wing quiver. They're already a favorite!
Is there anything else we should know about Good Breeze Kiteboarding?
Good Breeze has focused solely on kiteboarding for over 12 years. We jumped all-in once foiling and winging came out. If you need advice or info, please feel free to reach out and check out our YouTube channels @foiloutlet and @goodbreezekite.
CONTACT INFO
Phone: +1.321.252.5483
Website: www.GoodBreezeKiteboarding.com
Email: info@goodbreezekiteboarding.com
Instagram: @goodbreezekite and @foiloutlet
Facebook: @goodbreezekite