F-ONE is pleased to announce that Poenaiki RAIOHA is joining the F-ONE International SUP Team.
This young 17 year old  Tahitian has a powerful and solid surf that is surprising and appreciated. After a great 2013 season on the World Tour, Poenaiki strated off really well this 2014 season by reaching the 5th place at Sunset event in Oahu, HI.
This SUP boy from Papenoo, in the north east coast of Tahiti Island, completes our Polynesian team.
Poenaiki's results:
1st duo in Paddle Race of 56 kms with Jerry Bess to the Molokai-Oahu 2013
1st  SUP Tahiti  Championship 2013 : Junior and Open category
1st  Tahiti SUP Cup 2013 : Junior and Open category
1st   Junior Sunset Beach Pro Oahu, Turtle Bay, 4ème in Open
1st   Junior Paddle Race in Maui
2d   Sapinus event – SUP World Tour 2012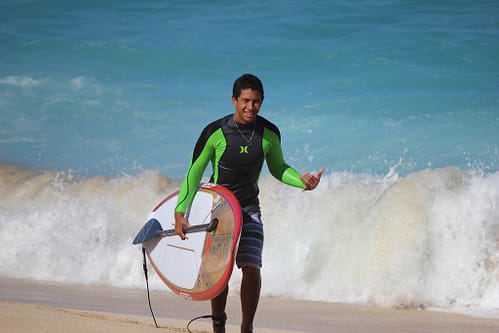 Let's discover a little more about Poenaiki:
What are your favorite spots? The waves of Papenoo, my home spot in Tahiti, because they are working well. They are perfect to improve the tricks and work on the power. I also like to go to Taapuna and Sapinus, the well-known tubular waves of the west coast. Tahiti it's the place to find the good spot and progress in several conditions.
What is your favorite trick? My favorite trick is the Air Reverse that I tried to realize in SUP.
Since when are you practicing SUP? For 3 years now; because I began in 2011.
As Polynesian, are you practicing other water sports?  Yes, the Va'a (the pirogue), the surf, the longboard, the body board and I recently began kitesurfing with Manutea MONNIER. It's really cool to have several complementary supports.
What is your favorite remember in SUP and why?  My best SUP remembers is the 2d place that I achieved in the final of the Tahiti stop of the Sup World Tour that took place in Sapinus. I only was 15 years old at this time.
You are a true competitor, what is your program this 2014 year? My program is to do the maximum of Sup World Tour events in 2014 in order to be in the top 10  worldwide riders.
How do you see your integration in the F-ONE team? Now you have training's partner, does it help you? Integration is very easy. Thanks to F-ONE I have the opportunity to participate in all the events of the SWT using custom boards, which have just been adjusted to me. I have great training partners with Manutea MONNIER, Patrice CHANZY, Natua TERIITAHI, Atamu CONTI with whom I'm enjoying SUP surf and SUP race.
What is your favorite board and why? I'm waiting for my my proto and in the meantime, i'm using the Madeiro Pro 7'5" x 26, which is really light and manageable.
What is your biggest dream? like all rider, my biggest dream is to become SUP World Champion!
Welcome Poenaiki and good luck for the season!