Source: GKA World Tour
Words by by Ian MacKinno
Images by Samuel Cárdenas
True Legend
The "Legends" award for Lifetime Achievement had a list of worthy contenders. But Cape Verdean kitesurfing superstar Mitu Monteiro, who recently returned to competition at his native Ponta Preta break just ahead of his 40th birthday next month, was awarded the prized statuette.
"I returned to competition after a four-year absence this year to commemorate the 15th anniversary of my return to Cape Verde as a kitesurf world champion in 2008," says Monteiro. "It's impossible to put into words what this meant to my people, but I still remember the image of people waiting for me at the airport. Is it true that I'm a legend? I'm not sure. But if my success helped others, I consider myself to have won."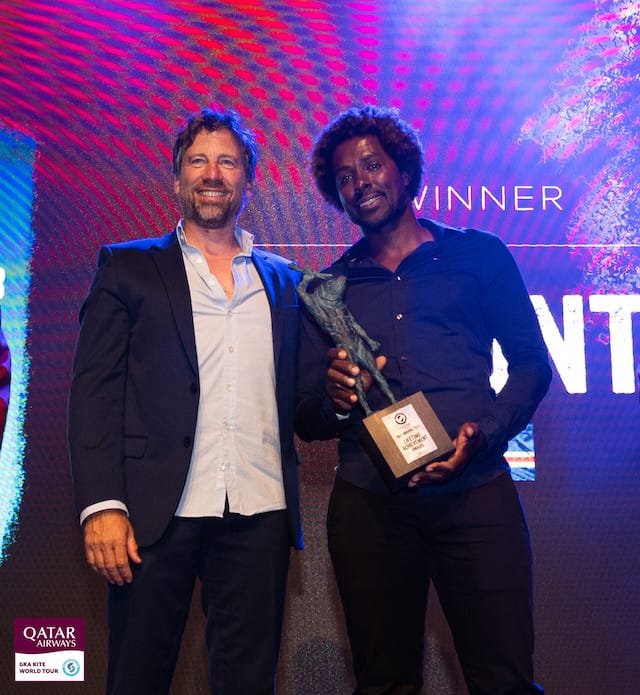 Perhaps the "Legend" of the future may be found among the current Rookie of the Year nominees. This year the prize went to the young Brazilian kitesurfer, Gabriel Benetton, who has been pushing hard in the waves and strapless kitesurf for several years.
From one of the youngest in the sport to some kiteboarding veterans is a short jump. Detlef and Monika Teichmann have been a fixture on the kiteboarding scene for more than 20 years, and in recognition of their dedication they were presented with a special, surprise, Fan Award.
Qatar Airways' Steven Reynolds reiterated the airline's mission to promote kiteboarding globally to connect people worldwide through the power of sport.
"I want to extend my sincerest congratulations to tonight's winners and the nominees," he said. "You have proven that with passion and commitment anything is possible. It's been an honour to witness such talent and commitment to sportsmanship. So from the skies to the waves, we look forward to making more memories together."