There is no surf in Sweden, or so they say. Yet, Stockholm-native Tim Latte has forged his own path. Cold never gets old. Deeply charmed by the wintery waves and the vast immensity of the extraordinary Arctic coastlines, he is forever chasing after unexplored and remote spots around Scandinavia. Up there, each wave is rare and precious, and each session brings amplified emotions.

Often surrounded by rugged, snow-capped mountains and freezing waters, Tim knows that very few get to experience such ethereal settings. Now the epitome of cold-water surfing, he feels privileged to be able to connect on such a unique, profound, and raw level with nature.
HOMESPOT: Torö Stenstrand, Sweden 
FAVORITE MOVE: Can be a take-off, bottom turn or an air. Anything that feels good! 
DREAM WAVE: Anywhere where it's pumping, or the waves have a good shape! I'm not too fussy. 
3 REASONS TO GO SURFING: It's hard to find 3 reasons to go surfing when surfing itself is such a unique experience and feeling – gliding on water just going with the flow in a forever changing environment is mind-blowing. Surfing is just half of the experience for me. The adventure aspect is just as rad; you get to spend time outdoors and visit so many places that you probably would never have seen otherwise.  
INSPIRATION: Anyone who puts everything into their passion in a positive way, I guess.  
FAVORITE MEAL: I will never turn down Mexican food!
" Surfing is just half of the experience for me. "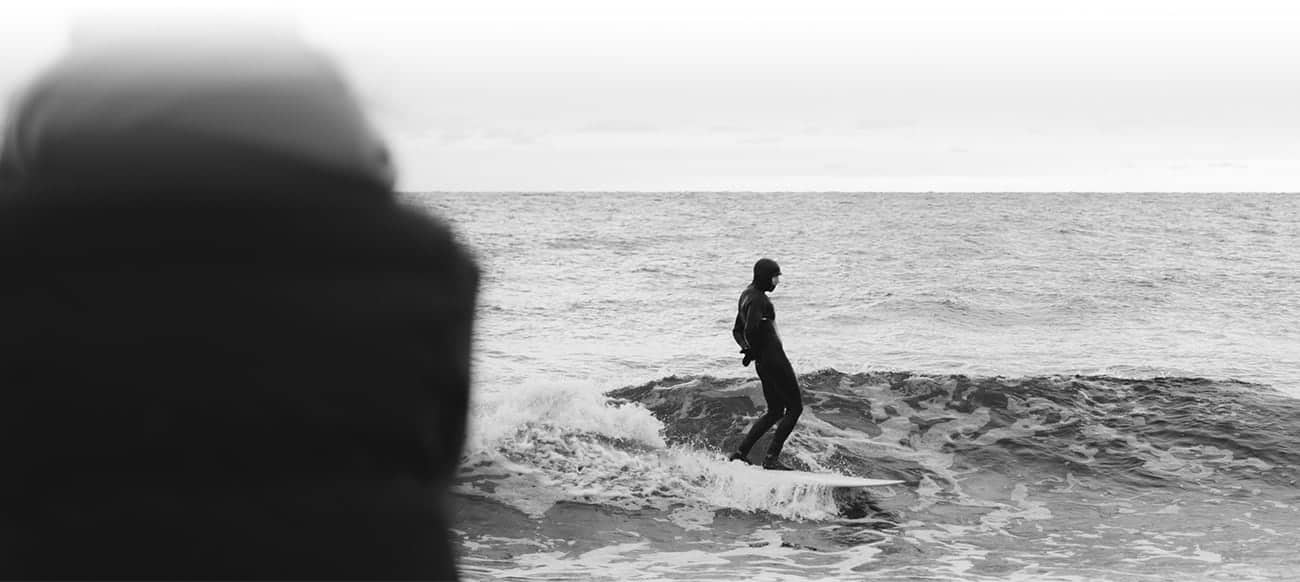 Can you tell us a bit more about your passion for surfing?
Surfing and its lifestyle is a huge part of my daily life as it has given me so many experiences both in and out of the water. The people I've met, the cultures I've experienced, places seen, and my forever love for nature.
You just won the lottery, what would you do first?
I would buy a proper van and roam the Nordic and Baltic coasts for waves for some time. I would also like to help fund and invest in companies and organizations that are green and innovative.
Next destination?
Not sure; swells come and go pretty quick up here. I'm pretty keen on heading back up to Lofoten on a good swell and also paying you guys a visit at the Manera office.
" …Gliding on water just going with the flow in a forever changing environment is mind-blowing. "
What's the most amazing thing you've experienced?
There have been so many unique experiences over the years, but I think my first trip to Iceland in 2016 was exceptional. A friend and I booked our tickets two days before heading there and we surfed empty waves and slept in a tent for ten days with northern lights dancing above us most nights. 
What are you doing during a day without wave?
You will find me working in front of the computer and constantly checking Google Earth and weather charts. Like everyone else, planning the next mission!