Typically, F-ONE rider and engineering apprentice Jules Chollet likes to spend his weekends on the water, whether it's to ride or to fish with his friends.
Last Saturday, a more ambitious and unique plan took shape. He had checked the forecast only the night before, and realized the conditions were just perfect for what he had in mind the next day.
A few weeks prior, Jules had completed a 50-km (31 miles) downwind alongside his F-ONE teammates. He loved it and didn't mind the distance, so much so that he knew he could push it even further with the right conditions.
So, on April 15, Jules left Frontignan in the South of France early in the morning for what would turn out to be a 200-km (124 miles), 9-hour-long run in the Mediterranean. 9 hours of pure glide, freedom, and an unforgettable experience.
Jules has already been downwinding for three years and fully trusted his gear to take him to the end. With an EAGLE 990 under his feet, the only foil he uses for downwinders, he knew he would be able to handle a variety of conditions and sea states while staying in control and comfortable. Throughout the day, his friend Loïc ensured his safety and followed him on a jetski.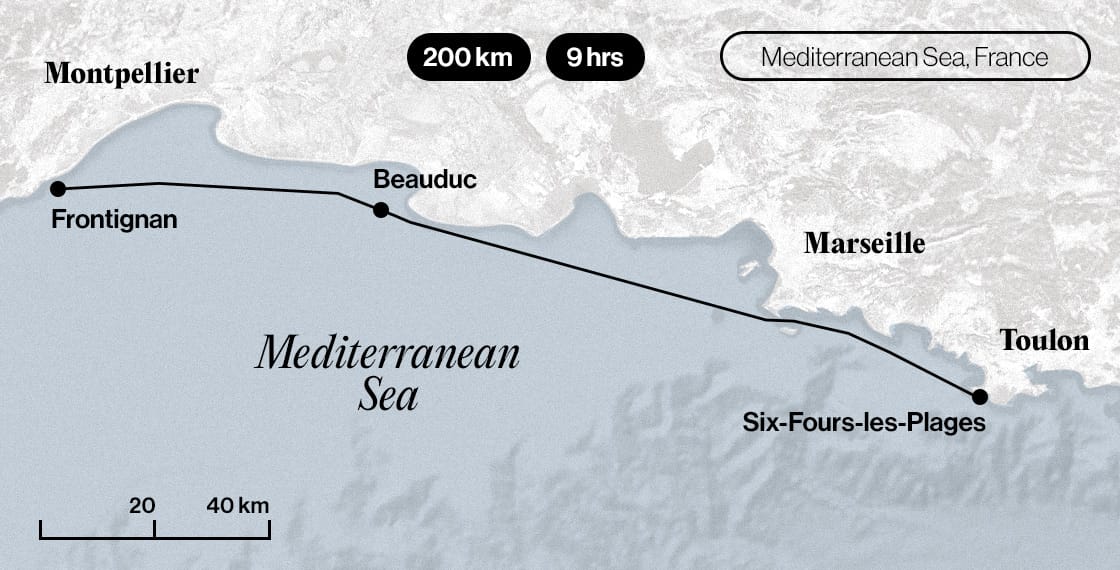 His journey started in small bumps of 40cm or so and about 25 knots of wind. With the swell and wind perfectly aligned, he headed offshore and cruised through the first few hours up to Beauduc. Shortly thereafter, the wind suddenly dropped, and the swell started to get a bit rounder, forcing him to start pumping and paddling before reaching the halfway mark.
After 30 long minutes and a few leg cramps, the wind finally picked up again to 40 knots. Nearing Marseille, he faced rougher conditions, including a cross-directional swell, wind sometimes gusting up to 60 knots, and the ship traffic going in and out of France's biggest port.
No matter how long, it's crucial for a rider to stay fully focused during a downwind and to continuously read bumps. A few seconds of inattention could lead to a mistake, a fall, and eventually a waste of energy to get going again.
"It was really chaotic off Marseille, between the north-western bumps which were now 1.5m (5 ft) and the big western swell which was rising even more. It was impressive, but I was definitely not in survival mode thanks to this 990. After Marseille, I rode in between some islands, and everything calmed down. It was incredible to go down big slopes 30 minutes before and then to be able to rest on a swell 5 times smaller, all with the same gear!"
The last 40 kilometers (25 miles) or so of his downwind were blissful. Sticking much closer to the coast this time, the hours quite literally flew by as he was riding at full speed. Jules' original plan was to go all the way to l'Almanarre, but a side-off wind and lack of fuel for the jetski forced him and Loïc to call it a day 30km (18.5 miles) earlier.
With an average speed of 22,7 km/h (13.7 mph) and a cumulated break time of only 30 minutes, he arrived in Six-Fours-les-Plages at around 18h00, tired but ecstatic about the day.
"I didn't think it would take this long, but it wasn't as hard as I thought it would be," he said. "I think I could have kept going. If you have the right conditions and stay focused, it's not so hard physically."
Disclaimer: This downwinder is performed by a trained professional rider. Long distance crossings require physical preparation, proper security devices, and assistance at sea. Please do not attempt any downwinders without proper training.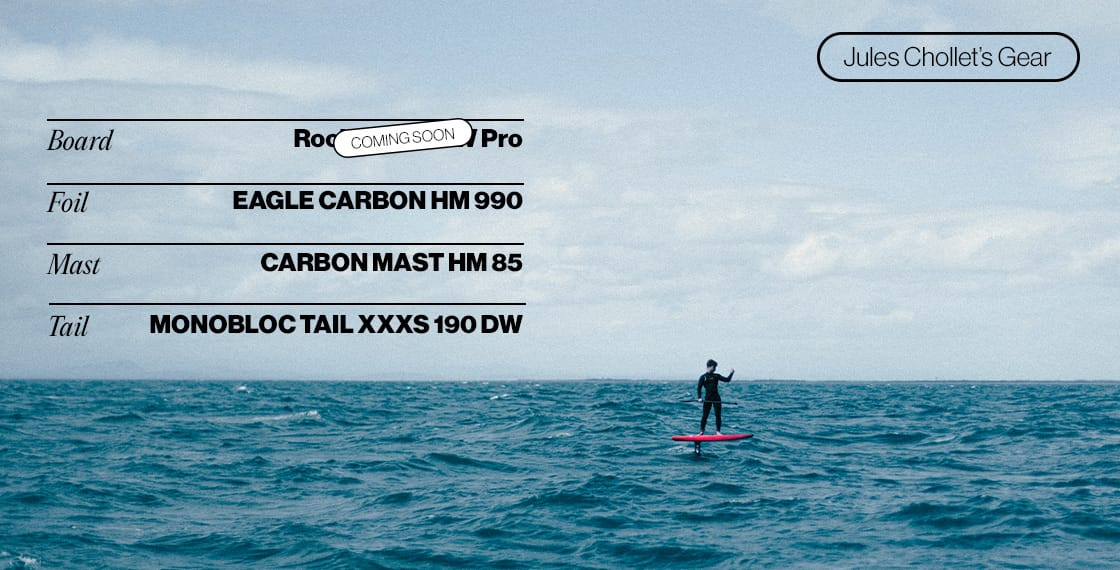 EAGLE HM CARBON
The foils of the EAGLE HM CARBON line are designed to bring you thrilling speed potential, incomparable downwind sensations, and everlasting cruising time above the water.
MONOBLOC TAIL XXXS 190 DW

The monobloc construction improves stiffness and reduces turbulence by eliminating connections and providing a more streamlined design. The 190 is suitable for more solid conditions or more experienced riders. Thanks to its smaller surface area, the 190 offers more speed and better maneuverability.
CARBON MAST HM
A true masterpiece of composite craftmanship and design, the F-ONE Carbon Mast HM was designed to transform your foiling experience by a significant improvement of the glide and a dramatic weight reduction matched with impressive rigidity.