As a kid, Josh always dreamed of flying. Now one of the best Big Air riders of his generation, you can find him sending it around the Mother City. A F-ONE rider since he started, Josh learned to kite at the age of eight on a BANDIT DOS with his father near Durban. Three years and a move to Cape Town later, his life changed as he witnessed firsthand what Big Air was truly all about. Incredibly daring and ambitious, the 17-year-old is ready to leave his mark on the sport and continue reaching new heights. We are proud and thrilled to welcome Josh to the team and cannot wait to see what the future will bring!
More about Josh:
How did you get into kiteboarding?
My dad basically got me into it when I was eight years old. I have always loved water sports, and he said kitesurfing was a super cool sport, so obviously I wanted to try. I fell in love with it right away. When I was 11 or 12, we moved from Durban to Cape Town, and that's obviously the best place in the world for Big Air. That's where it all started for me.
What do you do before getting in the water?
I do a bit of stretching and I play some music to pump me up. Techno or house get me super amped for the session.
Tell us about your best kiting memory.
This is a hard one. At first, I would have said one of my trips to Mozambique, but honestly, I think my best memories are when I was learning to kite with my father. The stoke was so real! I went to a kitesurfing school for only six hours or so, and then my dad taught me everything from there. It was super cool to learn at such a young age.
Your worst wipeout?
It happened in November 2021. I was doing a kiteloop late backroll and my kite went completely to the side. I basically just fell out of the sky. I was probably 15m high or so, and that was probably my hardest crash yet. I actually burst my eardrum on that fall. I was super dizzy straight away, and I couldn't even get my board even though it was right next to me. I couldn't hear anything out of that ear, and my balance was completely off. It took about two weeks to heal so thankfully it wasn't too long, but it all felt very weird.
Who would you like to say thank you to?
My dad for sure; both of my parents, actually. And obviously F-ONE and MANERA. I have been using F-ONE gear since the very beginning; I started learning on an old BANDIT DOS kite.
One sentence about the products that you are using.
Now I use the BANDIT XV kite, and it's quite aggressive in strong winds. I love that it allows me to loop so aggressively, unlike many other kites out there. It also brings me quite a lot of height; it's my favorite for sure.
Find Out About Josh's Go-to-Gear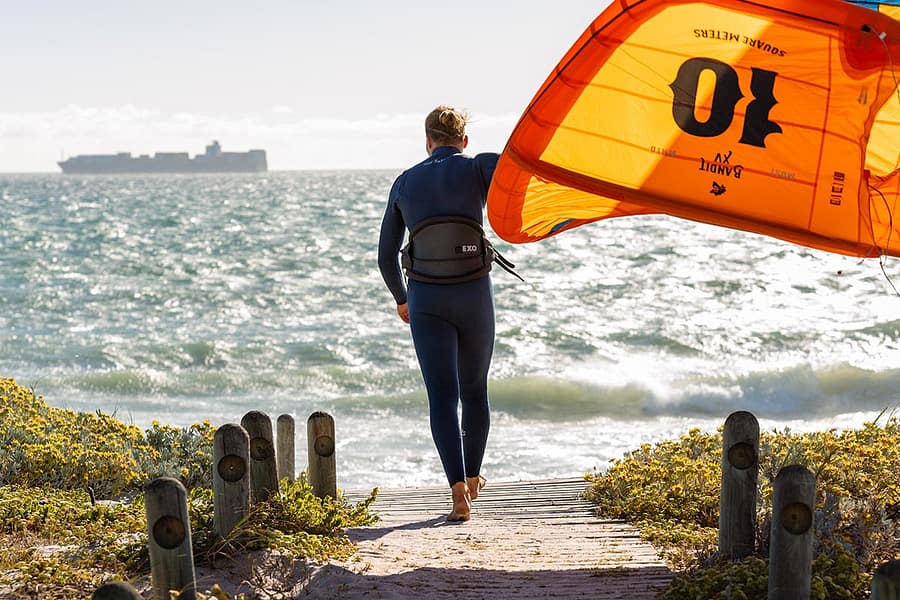 M O S T W A N T E D A N D S T I L L R U N N I N G
15 years after the birth of the first BANDIT, the F-ONE design team has once again put an astounding amount of work to create the best kiting experience for all riders. Jump higher, perform your favorite tricks at ease, improve your ride. The connection between the rider and the kite has never felt so natural.
P E R F O R M E V E N B E T T E R
The F-ONE TRAX is one of the most popular Twin-Tip on the market. It is a versatile board that excels in terms of speed, comfort and glide. In its carbon version, the TRAX offers an instant feeling of controls at speed and performance.