The 2018 17th Annual Jay Moriarity Memorial Paddleboard Race
Saturday June 16, 2018
The key to any race is good training and preparation which is how I found myself staring at the back end of the Prius Thursday night. I had studied it a lot recently knowing that I had to fit two days of work, a race and a week of surf in it. For the return trip, I was going to have my girl sitting shotgun so everything has to be able to move and accommodate her.
Prep work is key. Without prep work you're pretty much holding a bag with handles and no bottom. I had already taken the Prius through olive orchards so I was good for work. The winter months had tested the ability to get numerous (5) boards inside. I had been to races with boards on top. Yet, I hadn't combined all three.
Friday morning found me pondering the inevitable question any surfer faces, 'How many boards is too many for 9 days?' For this question there is no good answer because you don't know where you will surf, what the conditions will be like, etc. So I settled on four but had to take two more for the trip down. Six boards loaded and I was off to work.
Now, few things impress clients more than a Prius. One thing that impresses them, of course, is rolling up to work with six boards scattered around your vehicle. There I was, loaded and late but the car was full and charged.
With the Steve Jobs book blasting through my speakers (nothing says gangsta like books on tape) I sped down the highway stopping for work and finally landing in sunny Santa Cruz. Registration is always fun because you're relaxed and catching up with old friends and making new ones. I dropped a board off for the paddle legend of all time, Joe Bark. It was a board he shaped in 1983! He was stoked.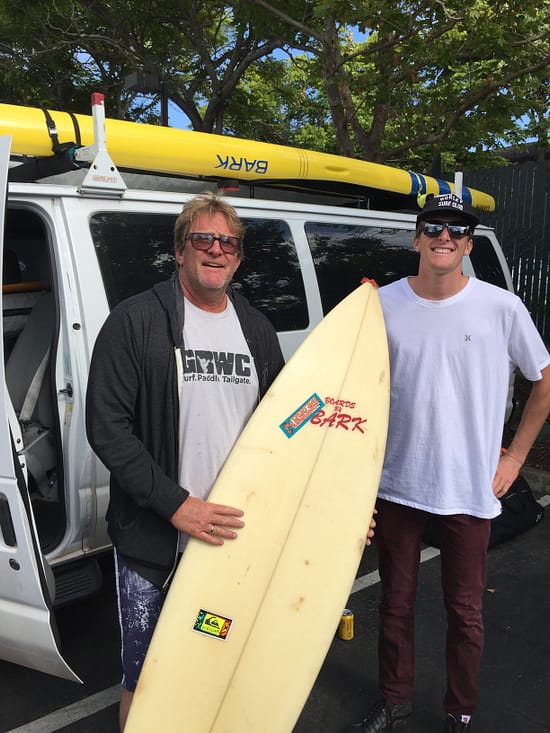 Saturday morning at dawn and the skies were slightly overcast and the ocean a sea of tranquility. Ah ha! The forecasts were wrong. I pulled the 14 x 25.5 Race Pro out of its bag and thought how perfect this all looked. I was ready. I laid the board on the sand.
As I stood up from laying the board down, the wind kicked and the rain started. In a matter of seconds the conditions went from 'yeehaw' to 'wtf.' I scanned the horizon – right on, white caps from the south.
By now, prone madman and F-One shop guru Shaun Lockerby had laid his stock 12′ prone weapon down and Jen Fuller had dropped the 14 x 23.5″ next to our boards. North coast legend and man about town, Jeff Broffman showed up with his 14 x 25.5″ and the F-One line up looked vicious! John Walsh showed up with his trusty 12'6 F-One and you knew everything was going to be alright.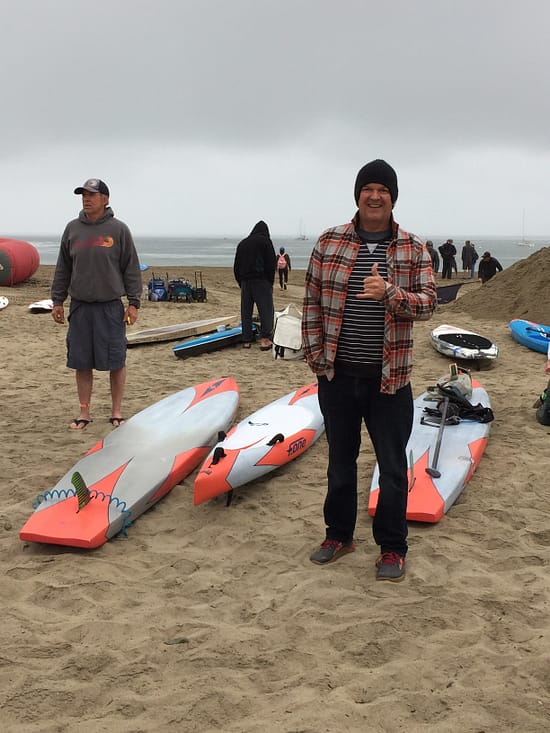 After some inspiring speeches celebrating everything that is Jay, the horn sounded. The fall fest was on. With the exception of a few – John Walsh and Jen Fuller among them – everyone was going to swim today. At the start, eventual winner Trent Carter fell in 100 yards out but got up so fast I didn't have a chance to catch him. Nor could his coach Jay Wild.
The best way to describe the ensuing ten miles is side-chop. The first half of the race was 90% right side paddling and the second half 90% left side. The wind was southwest. There was chop from that combining with a south swell combining with a northwest wind swell combining with backwash. Pretty sweet. So sweet, in fact, that during the race the safety team decided to shorten the race.
The end was fun, however, as a few bumps materialized and the wind was finally somewhat at our backs. With a trusty board underfoot it's easy to find the good in the garbage. The best thing is ending on a high note.
Overall Results:
Men
1. Trent Carter
2. Jay Wild
3. John Hadley
4. Steven Sinkus
5. Pete Gauvin
6. Ken Twist
7. Phil Tressenrider
8. Rand Carter
9. John Walsh – first 12'6 finisher.
10. Barry Wicks
Women
1. Delila Quinn
2. Kali'a Alexiou
3. Kristy Morris
4. Jen Fuller
5. Shanna Upton
Resources:
→ F-One 2018 SUP Global Catalog
→ Shop Online USA