– BRAND NEW PRODUCT –
ROCKET WING Series
On pre-order at your favorite dealer. Those boards will arrive in the fall.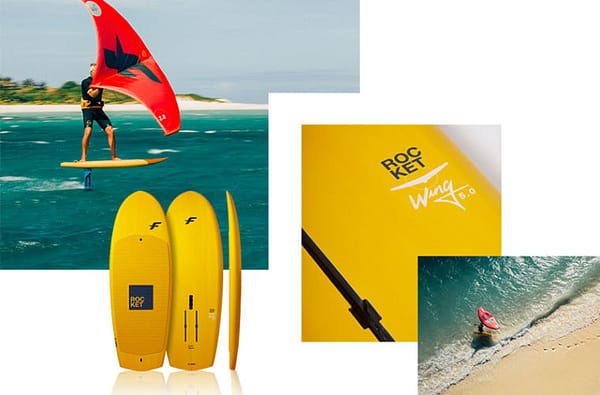 If flying a Wing Surf is your new foiling style, the ROCKET WING boards are the perfect matching ride.
We have created a new range of wing boards with a wide range of volumes to make it possible for most riders to stand-up easily as well making sure that riding back to the shore is possible, even when the wind drops.
Their dimensions and shapes are unique and specific to the practice.
---
ROCKET WING – The best board to enjoy your Wing surfing
Reduced bulk size and reduced weight
Improved maneuverability and responsiveness
Amazing balance, natural stance
Pumping becomes more efficient and direct
Easier transportation and travel
Rocket Wing board sizes:
5'0 x 22″ – 57l
5'4 x 23″ – 70l
5'8 x 24″ – 80l
5'10 x 25″ – 90l
6'0 x 26″ – 100l
How to choose your volume and board size for foiling with a Surf Wing?
Beginner: Weight(Kilograms) +40L (Rocket SUP)
Intermediate: Weight(Kilograms) + 10L (Rocket Wing)
Advanced: Weight(Kilograms) -15L (Rocket Wing)
The Rocket Wing Series is the perfect board to go with the F-One Swing and the Gravity Foil Series.