The ASC (Air Shield Composite) is built around an extremely lightweight EPS foam core, injected in a dedicated mold. This core is then laminated and pressed in another mold with fiber glass and epoxy resin, which is then surrounded by a protective shield made of a high quality top sheet layer.
This top sheet is the same material that F-One is using in the construction of all F-One kiteboarding twin-tips (equivalent to skis and snowboards finish). A carbon layer has been added under the pad area to strengthen the deck while keeping the board as light as possible. It makes that new board still very responsive and light and extremely durable.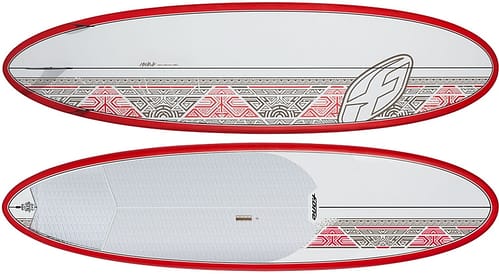 This is a board for the entire family (or bigger riders), with the same great shape as the Manawa 10'6 Bamboo. Ideal for cruising and catching your first waves, this board is fun, stable and easy. On flat water this board will glide easily with its 196 liters. When the conditions get choppier the 33″ will help you keep your balance and get through the waves. The extra length and volume will allow the rider to catch a lot of waves; once on the wave the board will be very forgiving to novice surfers. The shape and the distribution of the volume make the board maneuverable and forgiving. Easy and playful, this board is made to have fun.
The new Manawa 10'6 ASC  will be equipped with the new smart handle, an ingenuous integrated handle that also include a tool for the board valve and another tool to install your fins and make sure your valve is always closed when going out. That smart handle will be installed on all 2015 models.
Availability is end of July. You can pre order yours now ! Contact your local retailer. More info here.