Who doesn't love reminiscing about a wonderful road trip filled with hours on the water, adventures, encounters, mishaps, and laughter? Go behind the scenes now and discover what went down during our trip to Baja California last year on our YouTube channel.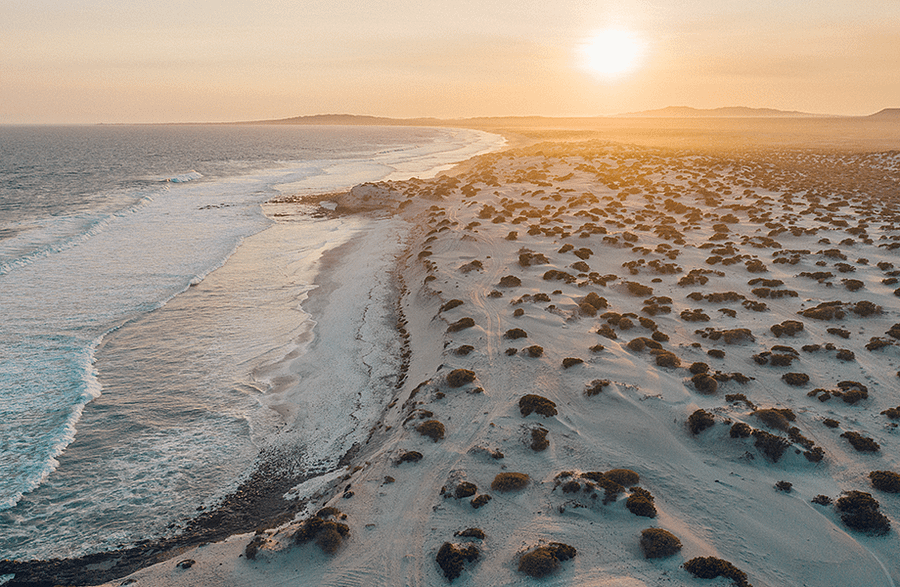 From uncovering new spots, suffering stingray bites, experiencing the local culture, witnessing endless banter within the team and soaking in stunning landscapes, this trip was truly memorable for all involved.

Our team of riders arrived in La Paz, the capital of Baja California Sur, and was immediately taken to a ranch nearby. Feeling as if they were on a movie set, they all certainly leaned into it as they channeled their inner ranchers.
They spent the day riding horses, discovering the barren landscapes, and experiencing the local food and culture.
Discovering the Local Spots
On the water, the trip started with a twintip freestyle session in a lagoon near La Bocana.
The riders quickly realized the conditions varied drastically around the area depending on the hour of the day and from spot to spot. The spots also weren't necessarily close to one another.
So, the team spent a lot of time on the road driving from one spot to the next, trying to ultimately pick one. It was sometimes a gamble, especially as they understood the tide's influence.
"We've been to one spot with a high tide, and it was perfect with really nice waves," Mitu said. "But then we went back at low tide, and the wave was not the same, so it was a little bit tricky. I think here you need to be in one place, stay there and wait for the conditions."
Mitu's Surf Session
Sometimes, it feels like Mitu can smell a good spot from a mile away, no matter where he is in the world.
After noticing a potential good spot from the road, he convinced Alex, the local guide, to take him there. However, he himself was not convinced it would be a conclusive find at all. But it turns out Mitu's instinct was spot on.
Once they got there, his mouth dropped as he saw a huge barrel essentially waiting for him. "It was a dream spot," he uttered.
They then rushed to pick up the rest of the team and gear before starting an epic kitesurf session in the waves.
Stingray
Naturally, traveling in such a remote and undisturbed location meant unavoidable and random encounters with the local wildlife.
Unfortunately, Paul Serin experienced it the hard way and paid the price of one of his crashes by getting stung by a stingray under his foot. Thankfully, he immediately put his foot in boiling-hot water for a few hours. It eased the pain, and he was able to get back to his board in the following days.
Photographers
Our producer and videographer Olivier Sautet and our photographer Matt Georges have known each other and worked together for many years already. Yet, their bickering and bantering is a staple on most F-ONE trips. By now, everybody is used to it and always gets a good laugh out of it, especially as the two are indeed good friends and do enjoy each other's company tremendously.
Mitu & Hendrick
Mitu Monteiro and Hendrick Lopes are like two peas in a pod. If you're looking for one, you'll usually find him with the other. The rest of the team was even quick to nickname Hendrick "mini-Mitu."
Throughout the trip, Mitu was always there to support and advise Hendrick on how to improve his riding, and the two bonded even more over their mutual stoke for the newfound barrel.
A Dreamy Session
One of Marcela's greatest memories on this trip was of one specific session where she rode a right-hand tube in switch stance. She was particularly excited to get barreled, but most importantly to get out of her comfort zone and to be cheered on by Mitu and Hendrick.
Riding well into the sunset and in good company, she felt fulfilled and was thankful to share this moment with others:
"For me, the more we share, the more we have."