2017 Kiteboard 4 Cancer July 14-16
Kiteboarding 4 Cancer is an event that was started by Tonia Farman in 2007 as a tribute to her brother, Scott Farman, who passed away from leukemia at age 19. For 11 years, the mission statement, "Kiteboard 4 Cancer empowers individuals to harness the power of the wind and water to benefit the lives affected by cancer," has been driving force for kiteboarders from around the globe to descend on Hood River every July for this event. The positive energy generated is contagious.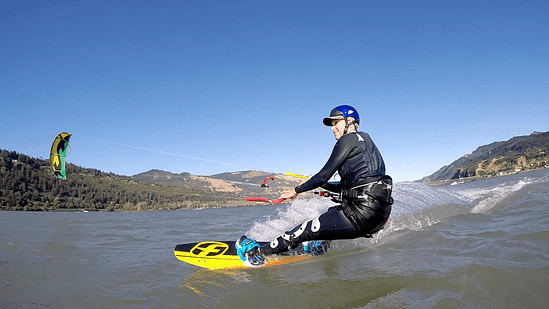 Kiters fundraise on behalf of ProjectKoru.org, and 100% of the donations goes towards Camp Koru, which is an adventure retreat camp for cancer survivors between the ages of 18-39. The camp provides the necessary counseling, life skills, mentorship, and empowering outdoor sporting activities needed for these young survivors to learn to adapt to a new life after cancer. The results are impressive! And when you have an opportunity to meet these survivors and hear their story, you can't help but to be moved and motivated to make a positive impact for these special individuals.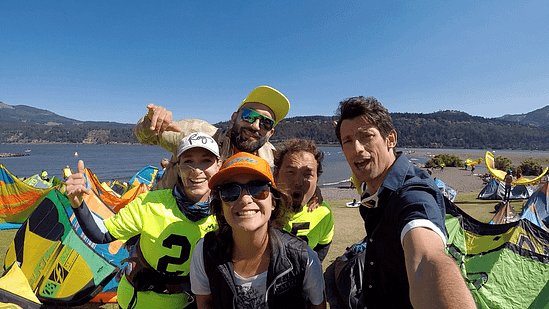 This year, KB4C had 139 participants that charged the start of the race course! Never has there been so much kite carnage at the start of the race. It was certainly intense! For 6 hours, this kite derby continued while teams and individual racers clocked 100 miles or more on the Columbia River. Wind conditions ranged from 7-38 miles per hour, with strong gusts and river swell. Team F-One and Team Manera were in the thick of it. Our own Joey Pasquali, took the top of the podium with the most laps raced. It was an honor for us to be there. Together our teams raised close to $11,000, and placed 2nd overall in fundraising. This calculates to sending 7 cancer survivors to camp. Collectively, $112,000 was raised overall, and there will be 75 cancer survivors who will be able to benefit from the support and generous donations. Thank you to all our friends and family far and near who helped us reach our goal. We couldn't have accomplished this without you!