For this 2022 foilboard collection, F-ONE's R&D team worked extensively on finding the perfect balance between volume and size. A board needs just enough volume to float, but not too much so it doesn't hamper the take-off, turning abilities, speed, and overall session.
We also focused on improving the strength and stiffness of our boards as the sports are moving forward. Riders are pushing more, jumping higher, or making new moves, and we needed our boards to be up to par with these new standards.
Here is our guide to help you choose your F-ONE board. It is important to keep in mind that your decision depends on your skill level, your weight, your usual riding conditions, and your chosen program.
Range Presentation
We built this board range with accessibility and performance in mind. We listened to the feedback and demands of our team of pro riders yet simultaneously aimed to offer incredible boards for anyone addicted to foiling.
Overall, all our boards are narrower, thinner, and more compact than most on the market for equal volumes. We want riders to get the best feel for their foil underneath their feet, to be able to take-off easily, and to have minimal drag while in the air for more speed and control.
Our range of wing and surf foil boards has considerably expanded this year with the addition of three completely new models, as well as new sizes and advancements on our existing ones. We also added a new model and technology to our kite foil board range, while also significantly improving our existing boards.
As a rule of thumb for wing foiling, your weight and level determine which volume is best for you. These guidelines can steer you in the right direction:

Beginner: Weight + 40L. For example, if you weight 70kg and want to learn the sport, then you may want to go for a ROCKET WING ASC 110L or ROCKET WING bamboo 105L. In general, beginners should look at boards with a volume of 100L and above.
Intermediate: Weight = Volume. Once you have a good handle on your wing and foil, the volume of your board can roughly match your weight. If you're 60kg, then most of our ROCKET WING board range will fit your needs, depending on your program and what construction you choose. These boards will bring confidence and control, and will allow you to continuously improve.
Advanced: Weight – 15L on. As you improve, reducing the volume of your board gives you more maneuverability, responsiveness, and speed. The sky is the limit.
Kite Foilboards
Our kite foil board range includes four boards.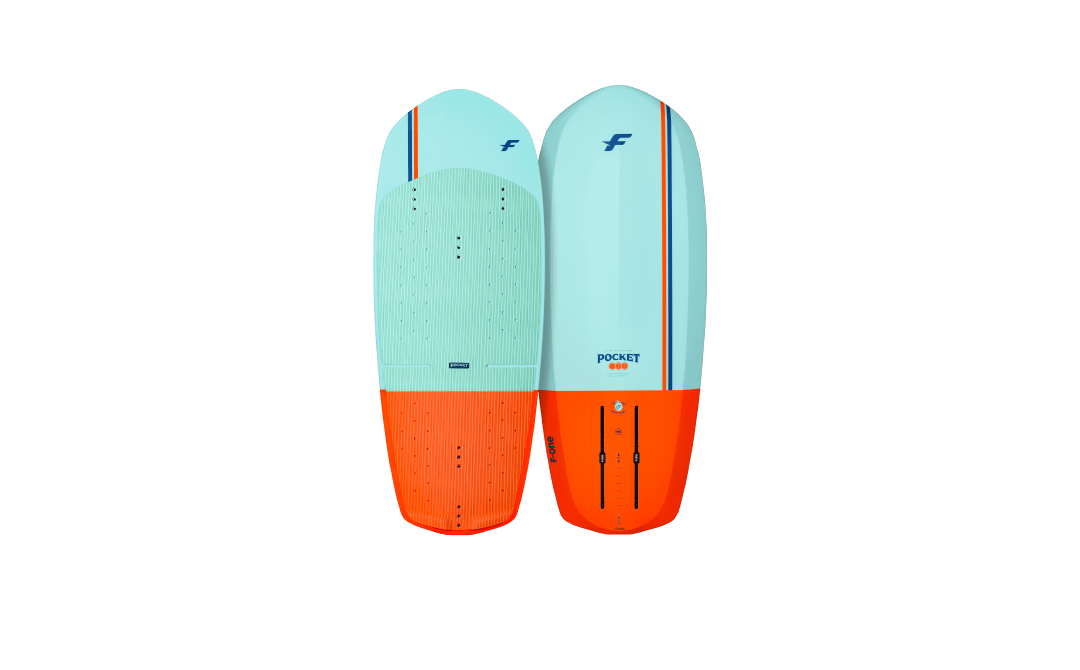 Pocket
The POCKET remains light and easy-to-handle board, with great carving potential and a bulletproof construction.
Pocket Carbon
The POCKET CARBON is even more rigid this year and is perfect for freestyle and performance sessions.
Pocket Carbon Custom
The POCKET CARBON CUSTOM is a new addition to this range. With a bit more volume than its regular carbon counterpart, this board is incredibly responsive, light, rigid, and made for carving and freestyle.
Pro Race
Finally, the PRO RACE CARBON is our competition-shape board dedicated to kite foil racing.
Wing Foil Boards
Rocket Wing & Rocket Wing Carbon
The ROCKET WING was our first board dedicated to wing foiling, and is ideal for anybody wanting to get into it.
They are the boards with the most area for a given length, thus providing a better balance when you're on the water. The carbon construction of the new ROCKET WING CARBON makes it a great freestyle board.
Rocket Wing – S & Rocket Wing – S Carbon
The ROCKET WING-S and ROCKET WING-S CARBON are our most notable additions. If you like to cruise, surf, jump, or downwind, don't be afraid to go for these boards and their lower volume, which will undoubtedly generate remarkable sensations.
Their specific, surf-type shape and the well-balanced volume distribution lead to easy take-offs, less drag in the air, and a lot of control in flight.
Rocket Wing ASC
The intuitive ROCKET WING ASC is ideal for all stages of wing foil progression, and will provide stability from side to side, impressive responsiveness, and an easy and smooth transition into flight. We expanded the size range to include five options, from 5'0 to 6'2, for even more fun and performance on the water.
Bamboo, or Carbon?
Choosing between a ROCKET WING or ROCKET WING-S in full bamboo or in carbon may seem tricky. The weight difference between the two isn't huge, as we only used carbon to gain strength. Indeed, it was necessary for us to offer carbon boards as riders are pushing their limits more than ever before.
Essentially, if you don't jump high and are more into freeriding or downwinding, then the full bamboo boards will be an ideal fit. If you know you're going to jump or do some harder landings, then you need to go for the carbon boards.
ASC vs Bamboo
Thanks to its state-of-the-art ASC construction, the ROCKET WING ASC board is as durable as it gets but is a bit heavier than a ROCKET WING. This is due to the transparent top sheet added on our ASC boards, which brings strength and makes them incredibly resistant to dings and scratches.
Surf Foil Boards
Rocket Surf
The ROCKET SURF has a compact design that will guarantee that you can ride, take-off, pump or carve with maximum control. Its shape has been optimized and construction reinforced for even better precision and control.
Rocket Sup Downwind
Our ROCKET SUP DOWNWIND is a fantastic board to surf and is also the best board to downwind. Its shape is the perfect combination of the qualities of our previous SUP foil boards, all while maintaining the right balance between maximum volume and speed. It is an impressive board that will let you fly endlessly.
Kite Foil Boards Construction & Technologies
We have four different constructions on our kite foil boards: SLIM Tech, SLIM Tech Carbon, SLIM Tech Carbon Custom, and the HD Foam Carbon Composite.
The SLIM Tech process uses a high-strength PU foam core material, a glass fiber layup and protective top / bottom sheet layers for a bulletproof construction.
The SLIM Tech Carbon uses a CNC-shaped PVC foam core combined with a carbon layup.
The SLIM Tech Carbon Custom is the latest addition to this range and comes from our MAGNET CARBON kite boards. This process uses a CNC-shaped PVC foam core wrapped entirely by a carbon fiber skin. All the skin layers are then carefully laid and vacuum bagged for maximum fiber efficiency and impressive stiffness.
The HD Foam Carbon Composite uses a CNC-shaped EPS foam core and a sandwich layup (high-density foam + glass and carbon fiber). It allows the board to be lightweight and strong, as well as tougher to heel pressures and dings.
Wing & Surf Foil Boards Construction & Technologies
Our wing and surf foil boards are available in three constructions: the Full Bamboo, HD Foam Carbon Composite, and the ASC.
The Full Bamboo construction uses natural properties of bamboo veneers placed between fiberglass layers to create a strong, durable, light shell for the entire board. Some boards are also equipped with an extra layer of bamboo (Double Bamboo Deck) in the stance area to make the deck even more resistant to local heel pressures and dings.
Wing foil boards constructed with the HD Foam Carbon Composite are fantastic for freestyle
Finally, the Air Shield Composite (ASC) boards are constructed around a lightweight injected EPS core molded to our original shape. It is laminated with a composite made of high-strength glass fiber, epoxy resin and a shield made of a high-quality protective top sheet layer. The ASC boards are responsive and extremely durable.
Ultimately, our 2022 board collection is extremely complete and wide-ranging. Choosing the right foil board is just as important as choosing the most suitable hydrofoil or wing for your skill level and program. From kite foiling to wing foiling, surfing and SUPing, our variety of shapes, sizes and constructions will suit all your needs.