More than an icon or a best-seller, the MITU PRO MODEL is first and foremost Mitu MONTEIRO's own board and this can mean only one thing: the board just as the man behind it remains firmly at the top of its game year after year.
100% dedicated to strapless riding
Excellent in waves AND for freestyle
Intuitive and playful in ALL conditions
Available for everyone! (3 construction standards x 5 sizes = 15 boards to choose from!)
Mitu is very meticulous and involved when it comes to his Pro Model. There's no shortcut with his testing. His approach is fueled by a lot of curiosity and a very fine analysis on how the board operates. Totally focused from day one, he invests all his experience into the tests. Offshore, side-off, onshore, Ponta Preta, Kite-beach, surfing, jumping, the board must tick all the boxes to be this all-in-one ripping machine.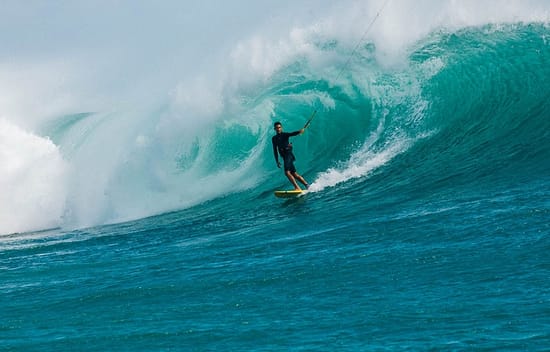 With the compact outline, the deep single concave remains the DNA of the MITU PRO MODEL which is known for its easy planing, sharp acceleration and great directional stability. The bottom features a channel at the front of the board to help while landing fins front.
The maneuverability is impressive and takes advantage of a much-refined rockerline. Travelling back along the bottom of the board, the concave fades progressively towards the back marking a rounded kick in the rockerline which further helps making the turns smooth and effortless.
Combined with some thin rails at the back, the fish tail remains the best compromise between planing, stability, turning and pop.
The range includes 5 sizes from 5'2 to 5'10 with the smaller ones having more focus on maneuverability and speed control, while the largest sizes have a bit more emphasize on the planing ability and general stability. All share the same shape features with their specific outline to make the most of the wave's energy.
The MITU PRO FLEX uses the HD foam flex construction where the ability of the board to flex has been emphasized to provide an outstanding comfort and an amazing feeling in the waves. Built with HD foam of various densities together with fiberglass and epoxy resin, this construction also features some deck stringers for more durability. The comfort while riding is further enhanced by the shock absorbers and the full pad. The MITU PRO FLEX has some deck inserts built-in so they can be equipped with foot straps. They come with a thruster fin setup and a set of F-ONE FlOW RTM fins.
Available Sizes: 5'2, 5'4, 5'6, 5'8 & 5'10
5'2″ x 17.7″- 20.2 L
5'4 x 18.1″- 21.8 L
5'6 x 18.1″- 22.8 L
5'8 x 18.5″- 23.9 L
5'10 x 19.1″- 25.4 L
Resources
→ 2019 F-One Kiteboarding Collection
→ F-One Flow Fins – Thruster
→  View Mitu Pro Flex in 3D