The 2016 Acid HRD Lite Tech Series is the ultimate pro new school weapon offered in 132x40cm and 133x42cm sizes!
ROCKER AND CONCAVE SHAPE DEDICATED TO NEW SCHOOL FREESTYLE
Better speed control and better pop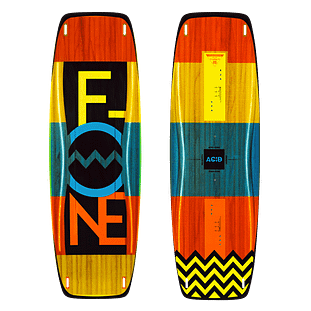 IMPROVED DECK
More stress resistant
CARBON CONSTRUCTION
Improved strength / weight ratio
INCREASED CONTROL, MAXIMUM EDGE GRIP AND POP ANYTIME, ANYWHERE!
EQUIPPED WITH THE REVOLUTIONARY HELICAL RAIL DESIGN
Superior edging, impressive stability and precision, huge comfort, very forgiving, smoother landings
BI-COLOR ABS SIDEWALL
PAIRED PERFECTLY WITH 2016 F-ONE PLATINIUM3 BINDING
Probably the most comfortable strap/pad combo on the market, and the perfect addition to any F-ONE Twintip learn more about the 2016 Platinium3 Binding!
Sizes:
132 x 40cm 2.45kg
133 x 42cm 2.6kg