Kite Speed World Championships 2018 in Oman have just finished up last week and F-One's Alex Caizergues and Mandi Browning were on top of the pack! Alex with 49.111 knots takes home second place in the world with a tough battle against renowned Rob Douglas. Mandi receives first place in the women's division and tenth overall with the men at 35.028 knots!
Mandi Browning ended up being the fastest female kiteboarder with a top speed of 35.028 knots. Both Alex and Mandi are using the AC Speed Gun Concept boards, Mandi was on Furtive Inflatable Kites and Alex using Diablo V4's due to light air conditions.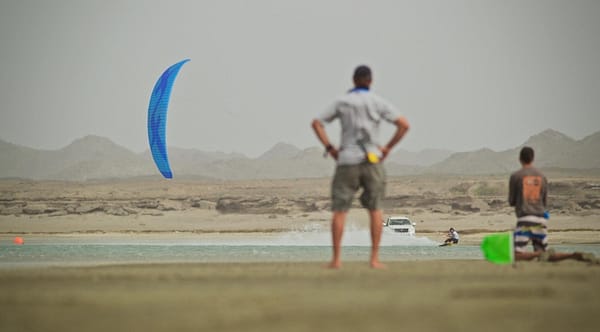 We caught up with Mandi after she returned to the States to get an insider scoop on her first major Speed Event!
"Kitespeed World Championships on Masirah Island in Oman has been an incredible experience!

The journey was long and hot, but it was well worth the effort to get there. Masirah Island boasts a very fast and technically challenging, flat water course that is perfect for speed! It was a privilege to be able to compete amongst the top contenders in the world in high speed kiteboard racing. I'm so thankful for my kitespeed family for their encouragement and support. We have a very special group and I couldn't imagine not being a part of it! We didn't have the greatest luck with the wind, with only 5 total races, and 2 of them with just enough wind to meet the minimum for the race requirement. This made it challenging to reach expected speeds on our runs, but we still gave it our best. I'm happy with my results and I have a better understanding of what I need to improve on, so I can continue to push the boundaries in kitespeed. I had two massive wipeouts at this event. One, was by far, the worst crash I've experienced in 10 years of kiting and I'm lucky I didn't break anything. I'm mildly bummed that no one managed to film it, because it was one for the books! Thanks, Alex, for coming to my aide and staying with me until I could breathe again.

The Sail Oman Team were amazing hosts that not only took care of the logistics and operations for the races and hotels, but also were our daily bus drivers risking life and limb dodging camels and goats, and on occasion, were even our tour guides. A huge shout out to Markus Schwendtner from the IKA for his hard work and dedication, for growing kiteboarding into an Olympic recognized sport, and for hosting a World Class competition. Thank you to Chris Muchte for his impeccable German time keeping, and to Marina Psychogyiou for her officiating expertise.

How they found such a large flat-water space for speed in the middle of what seems like nowhere, is beyond me. Who knew a tiny island off the coast of Oman would become a kite destination spot?! But they hit the nail on the head with this location. Last, and certainly not least, a huge thank you to FOne for your support! I'm so proud to be part of the team! I can't wait to see what future holds! I'm looking forward to next year's World Championships in Oman." – Mandi Browning
2018 Kite Speed World Championship | Top 5 Results
Men
1. Robert Douglas (USA) 50.252 knots
2. Alex Caizergues (FRA) 49.111 knots
3. David Williams (GBR) 45.761 knots
4. Robert Harding (USA) 46.484 knots
5. Enrico Giordano (ITA) 42.642 knots
Women
1. Mandi Browning (USA) 35.028 knots
2. Anna Weld (GBR) 25.737 knots