F-One Kite Ambassador and local Wadell (well known kite surfing spot near Santa Cruz) resident Brian Friedmann is fleeing the upcoming cold and often windless Pacific North West Coast and will be spending the winter in La Ventana, Baja Mexico. La Ventana is a fantastic destination in the winter, with strong daily thermal wind, great vibes, good food, and plenty of outdoor things to do. Brian recently started winging and he is telling us his progression from bigger board to smaller ones, including the rocket air surf, the F-One inflatable foilboard series. Not everybody are or will be able to ride very small boards (<50L) when winging, but that being said the smaller you can deal with, the more freedom you have, whether wing surfing or not. The Wing revolution is marching on and we are all having so much fun with it – Nico Ostermann, BAKS Distribution

Team Rider: Brian Friedmann
Location: La Ventana, Baja, Mexico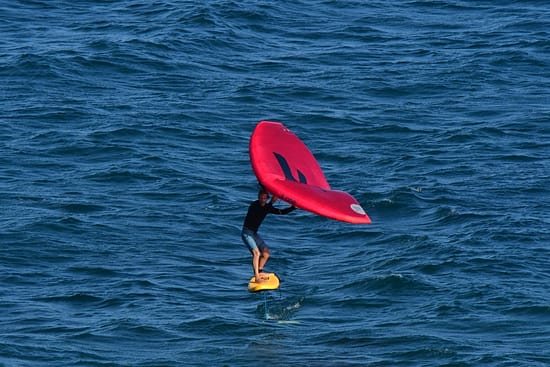 Having recently taken to wingsurfing, I've been going through a similar learning curve as many who have posted their experiences on social media sites. You start with some variation of a beginner setup like a big board (F-One Rocket SUP 7'6" SUP 120L), big wing foil (F-One Gravity 1800 or 2200) and medium wing (F-One Swing 4.2) with a good amount of wind. So first time out, yes, the SUP was relatively easy to get up foiling on but I found it hard to manage overall.
Hauling it up the beach, getting through the surf and the sheer size of the board 7'6" made for a lot of forward weight that had to be counter balanced by the foil underneath the water making it almost a bit counterintuitive and constantly requiring small weight shifts to keep foiling. I'm around 165lbs, live in Santa Cruz, am a decent surfer, an average kite foiler and ok prone (surf) foiler so some of those background skills helped to get foiling quickly on the SUP. Although I was struggling with switching stance which kept me from making any huge gains back upwind. After making a few runs on the larger SUP board I wanted to try something closer to the other end of the spectrum, a 42L custom "sinker" that I used for surf foiling. After all, I've surfed forever, have reasonable prone surf skills and know how to kite foil fairly competently so how hard could it be? The answer, very frustrating. But like many of us I don't give up easily so I made a commitment to keep going on the shorter board no matter what. I'd already swore to myself that I wouldn't carry that behemoth SUP back upwind so I'm sticking to the smaller board until I get it nailed. A few days at my local beach and several long attempts made, I found myself struggling all the way down the beach (frequently cursing) until one moment just before giving up for the day a big puff pulled me up and I was going. Nirvana! A board that was short enough to turn, easier to make tacks on and had a couple good glides down some swells with the iconic finger dangle of the Swing in front of me. It felt so much better than being on that boat SUP. So the next few sessions were spent trying to reproduce that one amazing water start in order to get more of that adrenaline feeling of being free on the foil with just the Swing. My shins and legs bruised and physically tired each day from all the failed attempts I continued to keep at it and not give up. This sport is really addictive and it's interesting the pains you'll go through to get more foil time.
I tried another shorter board, the F-One Rocket Surf 5'0" at 35L that was a bit easier than the 42L custom I'd been using. It raised my water start success rate very slightly, maybe 20% of the time I'd get up and foiling. The biggest challenge was getting the board to rise enough to the surface from my knees in order to jump to my feet and start working the foil up. My Swing skills were good, I was getting a lot of pull and slowly making my way to the surface on my knees but frequently would just sink the board again as soon as I put a foot on the pad. Then after consulting with the Bay Area Kitesurf crew and looking through their inventory I spotted the F-One Rocket Surf Air. An inflatable that carries the same outline and template as the hard Rocket Surf board intended more for paddle/prone foiling but has the benefit of higher volume (75L) being an inflatable. This could work, a board that gives you more volume but still has a small outline, less (or no) swing weight up front and is easy to manage or at least won't continue to bruise my legs up more than they already are. So with the 5'8" Rocket Air Surf under arm I hit the water and immediately found that the board floats me really well. Actually it sits just above the surface an inch or two when I'm sitting on it and at the surface when on my knees. This is the perfect starting point to begin the process of getting to my feet and bringing the foil up. Once up, the shorter size of the board was still rigid enough to work the foil without any porpoise feeling or too much flex on the deck. What I found is the inflatable has made it infinitely easier for me at this stage in my progression and turned around a 20% success rate of getting up foiling to a 90% success rate. The extra volume allows me to easily get it moving forward which helps to stabilize it and simply put my front foot up, then back, and one or two pumps and your foiling. And this is in very little wind (few caps) so it's not a huge lift from the Swing overhead. I can almost just stand up from a full stop. When it's windier the process just becomes quicker, easier and if real windy I'll move down from the larger foil wing to a medium size one. Overall I'm really happy that I jumped on the Rocket Air Surf and it may not be my ultimate board once I get better but certainly has earned a spot in my equipment list for now.
The inflatable has host of benefits like the soft surface and no more bruises. Extra volume in a smaller outline makes it more maneuverable. Portability is great and when deflated the board rolls into a pack similar to a small kite. This allows you to take it anywhere, it travels easy with no baggage fees. The weight is a key benefit as lugging any board attached to a foil out of your car, up the beach, into a head wind, through the surf, wherever is a pain. This board weighs nothing so you're really only carrying the foil wing weight for the most part. Floatation is fantastic so you can paddle it to get off the beach or when the wind dies and you're a half mile offshore on a downwinder. The  Price! It's nearly ½ the cost of most hard boards out there. And the Rocket Air Surf is super versatile. It makes for a great board for kids and others to get on the water or is great behind a boat or jet ski for new riders who want to learn the foil aspect of wingsurfing.
Some other tips I've learned along the way, take to a flat water location with lots of downwind room initially. Fighting larger swell, kelp and surf upon entry/exit only adds to the challenges of getting going. You may not have a flat water spot around but if you do it should be your first choice until you get more proficient. Managing the wing(s) and board is all new and there's a lot going on at this stage of learning. Make sure you have all your gear. Can't tell you how many times I was missing a certain screw, grabbed the wrong foil, forgot the pump adapter, whatever.
Again, new sport, new equipment. Make sure you have everything. Wear the appropriate gear and hydrate. If you're in cold water make sure you have a thick wetsuit. You'll be in the water a lot more than usual when your kiting or doing whatever water sport you usually do. If you're in warmer water you may want to shed a layer or use a thinner suit. The amount of energy output when your learning is significant. It's easy to tire out quickly during this phase of the learning process. The sooner you can get up on the board and actually foil the longer your sessions will become. By the way, warmer water is always preferred! And don't forget to hydrate. It's a bit of a calorie burner in the beginning and your biceps will feel and show it.
If you're new to wingsurfing with no background in foiling it may be easier to take each part separately. In other words, go get a foil board (Rocket Airs a great start) and a friend with a boat or ski and learn getting up on the foil in that controlled environment. It's a fun day on the water with friends and everyone can give it a go. Then separately spend some time with the Swing or whatever brand wing you have.  Learn to handle it on the beach competently making hand changes with minimal effort. Simulate what you would be doing in the water when you need to tack. As mentioned, there's a lot going on the first couple times in the water so the more you're comfortable with things on land the quicker you'll be at progressing.
A foot note on equipment, F-One is coming out with the new Rocket Wing series of boards which are a hard board with more volume intended specifically for wingsurfing. I'm looking forward to giving one of these a go soon but still believe the Rocket Air Inflatable is a great option for learning with.
This new sport is changing quickly and part of that is sharing experiences. Hopefully this will help others expedite through some of the pain I experienced working towards the right setup early on and find a niche board offering that may be right for you. Stay Salty!