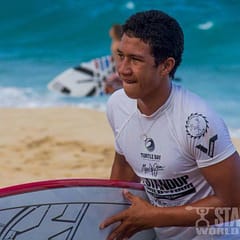 Name- "POE" Poenaiki Raioha
Age- 17 years old
Home Location- TAHITI-Papenoo
Favorite SUP surf location- Embouchure of Papenoo
You surfed very well in the semifinals of the Sunset Beach Pro. How do you feel about your performance finishing Fifth overall in stop #1 of the Stand Up World Tour?
I feel great, not going to let it go to my head. I'm happy to achieve 5th place in the Sunset beach pro and I will continue to train and improve my riding in my home spot of Papenoo.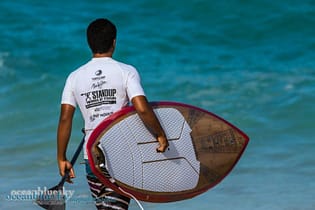 Which board in the 2014 F-One line-up did you ride in Hawaii for the event? What do you like about the 2014 f-one SUP surf boards?
I'm a new rider to the F-One team and I did not have a board 2 weeks before the contest. I have been riding boards of Patrice Chanzy and I thank him very much, also Manutea for making this all possible to have a board for the Sunset beach pro contest. I used the Madeiro PRO 7.5 x 26 for the first round through the repechage heats, and the 7'11" x 27 for round 3 through the semi-final heat. The Boards are light, fast and very handy…
Are you excited for the Stand Up World Tour stop #2 in Brazil?
Yes I'm really excited for the stop #2 in Brazil because the waves are similar to those I surf at home.
Where will you be training until Brazil?
I will be training in Papenoo embouchure, my home spot!
Check out the 2014 SUP Surf series from F-ONE
Photo credit: Stand Up World Tour and Oceanbluesky Productions.