"Beyond the warm welcome, the enthusiasm of the team and the feeling of being part of a family, what I really appreciate has been MANERA's willingness to help me improve the adaptations on my wetsuit," he said. "It allows me to move forward, to create and to share it all with others." – Eric Dargent
No matter the weather, the time, the place and, most importantly, no matter what life throws at you.
At the beginning of 2022, French surfer Eric Dargent approached MANERA. He needed help on adapting his wetsuit perfectly to his leg prosthesis to keep warm and to ensure as little water entry as possible.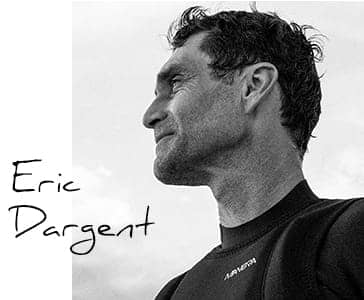 Our R&D team closely worked with him for months, taking measurements multiple times and sending him prototypes to test to make sure everything was perfect. As we listened to his feedback, we learned about the specific adjustments needed for him to fully enjoy his time on the water.
Once the concept and patterns were nailed down, our partner RepareTaCombi.com took care of the final alterations, and Eric was back on the water shortly thereafter.
Using our knowledge and decade-long experience in the neoprene industry, it is our hope to help and inspire individuals from all walks of life get to the water.