The 3rd Annual Green Hat Kiteboarding KiteFest 2017 took place on Sunday, April 23rd at Sandy Hook Bay Catamaran Club in New Jersey and we sent East Coast Representative Nate Scheu to spread the F-One and Manera stoke. The wind was too light to ride but that's what makes this event different from others. We attended because they had a no wind schedule of events and an exposition style layout on the beach. There were eight major kite brands involved as well as seven accessory brands including F-One and Manera, and all of them had their latest products on display for the participants to see, try on and ask detailed questions about.
The schedule of events included clinics from brands covering topics such as introductions to kiteboarding and hydrofoiling, bar tuning, self-rescues, riding strapless surfboards, gybing and tacking directional boards, big air, and Nate's clinic which covered the sometimes daunting process of gear selection. The guests and participants were also given raffle tickets throughout the day for attending, showing up early, signing in, being on the RSVP list, attending clinics, and interacting with brands among various other random acts of socializing. There were also periods of light wind that allowed guests to fly trainer kites and get a feel for kiteboarding, and the Green Hat jet ski was running all day giving those who were brave enough a chance to ride some hydrofoil boards. Towards the end of the day an unexpected kite tow-up session got the crowd on their feet and kept the excitement levels high.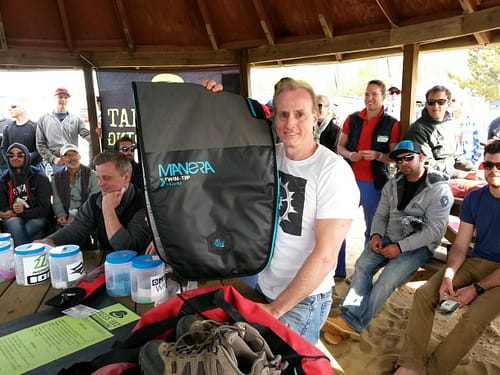 To wrap up the event Green Hat held their much-loved raffle along with raffles from all of the brands in which the attendees won plenty of promotional products, aka schwag, including shirts, hats, sweatshirts, trainer kites, board bags, back packs, and gift cards worth $500 towards the purchase of gear from Green Hat Kiteboarding. With about 150 attendees present, the raffles were a great and fun filled way to end the day and see everybody come together for some final laughs and cheers. The F-One and Manera team would like to thank Vadim and Brian from Green Hat Kiteboarding for their hospitality and dedication to running such an awesome event. It was an honor and a pleasure to be involved, see old friends and meet new ones along with the extremely friendly kite enthusiasts from the Northeast. We are looking forward to next year already.