Meet Windance, the latest addition to the F-One & Manera Dealer Family located in Hood River, in the Colombia Gorge. Windance is one of the most respected kite shop in that area, a favorite destination for kiters, foilers and windsurfers, and we are thrilled they chose F-One. They specialize in Kiteboarding, SUP, Surf & Hydrofoil. Windance stocks the latest from F-One, we recommend you stop by and check out their store.
We asked Windance's owner Dave Nunn a few questions to learn more about Windance Boardshop:
Can you give us a little background of your shop, how you started it and what's your vision for it? Windance has been in the Gorge since 1984, I bought it in 2007. Since then we have become a premier kiteboard shop that ships world-wide. Our goal isn't to sell the most but to sell the best. In return for selling the best gear we have the best customers who are loyal to us and spread the word for us. It's good marketing.
Is the shop open year round? Yes we are open year round, 7 days a week. We only close for 3 days a year and we don't switch to winter gear either. The peak Gorge season for riding is May-Sept but we ride year-round as well.
Can customers also buy online? www.windance.com  is our website and is kept very current (every 30 minutes). This is especially handy for our Used Gear customers to know that what they see is here now. Additionally we try to write our own product descriptions and not just copy & paste from the brands website. Free Freight & No Tax is bonus on our site too.

Do you offer demo? Windance has a very large demo fleet. Drop by anytime and test ride an F-One board, kite or foil. It's either free or the demo price comes off your purchase should you decide to buy one.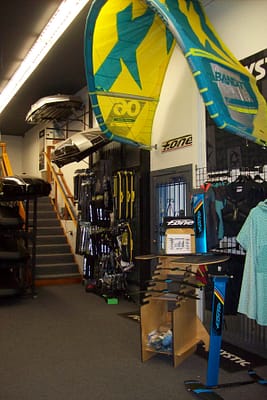 Hood River is an important destination for kiteboarders and windsurfers in the United States, not to mention the home of significant manufacturers / distributor, has been for years. Being front and center in the hood, what's your take on the current kiting, foiling and windsurfing state of affair and where do you think we are headed? Hood River is the test & design center for so many brands that you are always seeing new ideas being tested on water. We personally test every product we sell here at Windance as well. Call it a job perk. As far as the direction of kiteboarding from our perspective we see that it is still growing. There are seven kite schools in the Gorge and they are all booked up each summer. Gear wise I see more innovation coming particularly in the bars and "rear-line adjust" style to arrive on the market soon. Of course foils are getting all the attention right now and the designs are changing so fast the that the paint is hardly dry before a new one arrives. We like the foils that can be altered for SUP, Surf, Windsurf & Kite just by changing wings, like the F-One does.

You are pretty specific and loyal with the brands you carry in your shop, what makes you decide to go with F-One? We looked at F-One for 4 years before adding them to our brands. What we like is not just the quality of their products but their distribution as well. It's important to the customer that there is a ton of after sales support and F-One has both quality & support. However the tipping point for us is their foil line-up, it's an incredible product, definitely the most refined foil offering on the market. The French are the leaders in foil design and have been at it the longest and the F-One foil shows it.


For readers not familiar with hood river, can you tell the best seasons to go kiting or foiling, what type of conditions to expect, the spots to hit? Hood River is on the west side of the USA but 3 hours inland from the coast. You fly to Portland and drive just 1 hour to get to Hood River. It is a mecca for sports junkies.  The area is called the Gorge since it is a long deep canyon which the sea breezes come inland through. These breezes are accelerated by the hot desert to our east. During our peak season from June to September the desert is hot enough that we only use kites from 5-10m2. It is normally windy every day. We have a good flat-water site with a big safe launch and if you kite upwind you can get into 4-10 foot tall waves as well. Downwind sessions from Viento to Hood River are 7 miles (10km) and through the most incredible scenery, it's a must-do.

Do hood river residents go to the coast, is that far away? It's just a 3 hour drive, but I hardly ever get to the coast since there are so many non-wind sports to do here like mountain biking and year round skiing. However when I do go it's incredible. The Oregon coast is largely undeveloped and very natural. The ocean is cold but the waves are truly epic. It's worth the drive.
Windance Board Shop
108. Hwy 35,
Hood River
OR, 97031
Phone: 1-800-574-4020
Email: windance@windance.com