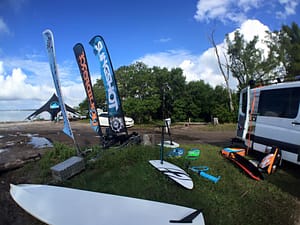 Meet our newest Florida Dealer for F-ONE and MANERA located in St. Petersburg; Hooked On Kiteboarding specializes in kitesurfing lessons, sales, and safety. HOK offers the latest and greatest from F-ONE along with a handful of other leading brands in the industry. These guys are legit and if you're ever in the area we highly recommend stopping by and checking out their epic set-up. The Sky Way bridge is an amazing kite location featuring relatively flat conditions perfect for learning and excelling in the sport of kiteboarding! We look forward to making it over to St Pete, Florida more often to spread the stoak and support HOK on and off the water!
What got you into the Kite business? I was really getting big into wind surfing. I had two huge boards, 3 masts and a couple sails. Basically a truck load of stuff. One windy morning I was rigging up and some dude shows up on a motorcycle with a wakeboard and a backpack. He called it kite surfing. After seeing this I quickly sold my windsurfing gear and never looked back.
Where do you like to kite and what is your favorite local restaurant for an after Kite meal? My favorite local spot to kite is the Sunshine Skyway Bridge. It offers best of every world but waves. Deep water for foiling, Butter flats for days and some of the best teaching grounds in Florida. Best after kite meal in town would be the VIP on Treasure Island, Fl. Hands down best Mexican Restaurant I know of and the Margaritas flow from the taps.
What is your favorite local Kite event? There is a group of us kiters in Tampa Bay that throw a huge Santa Kite Jam every year. We all dress like Santa and then kite our hearts out for the whole day! We center the focus on Toys for Tots donations. This year we will have a big air, free style and mega loop competition.
Why do you chose F-ONE for one of your brands at Hooked On Kiteboardin? Hooked On Kiteboarding is dedicated in the progression of kiteboarding. We see that FOne has always been on the forefront of this. We also want to provide our bay are riders with the fastest race gear out there.
Hooked On Kiteboarding "HOK" 
Website: www.hookedonkiteboarding.com
Email: info@hookedonkiteboarding.com
Phone: 727.510.2166