Boardsports California (formerly known as Boardsports School) has been a F-One dealer since 2007; they were one of the very first Kiteboarding shop & school to carry F-One in the States, even before the avent of the Bandit 1; their first board was a F-One Legend (a hybrid twin-tip and surf) and their first kite was a Tribal II!.  We have a great relationship with Rebecca & Jane and they have been the go to kiteboarding school in the Bay Area for a long time. Their Alameda Crown Beach location in the East Bay is arguably the best spot to learn how to kiteboard, and they have also another retail shop on the other side of the Bay, on the beach of Coyote Point, with access to jet skis to go to the channel where the chance of getting enough wind is close to 100% during the Spring and Summer. With their 2 locations, they can service Peninsula and East bay kiters all at once.
Here are the Boardsports California Q&A: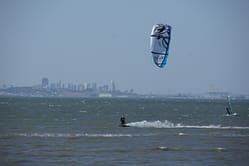 Address Shop:
2 locations
Location #1 – 600 Westline Dr Alameda CA 94501
Location #2 – 1603 Coyote Point Boulevard, San Mateo 94401
Social Media Sites:
Boardsports California Team: 
We are a passionate, dedicated team of instructors and gear specialists with over 30+ years of collective riding, teaching and technical experience. Your goals become our shared goals. We will join you in your quest to learn windsurfing, kiteboarding or stand up paddle boarding. We will help you to improve your riding skills as you progress in each sport. We will help you to get the best and most appropriate equipment for your riding level, budget, and style.
Owners: Jane Cormier & Rebecca Geffert
What got you into the Kiteboarding business? 
How did we get started? Owners Jane & Rebecca recall our first summer…
For 15+ years, Jane and I climbed the corporate ladders of our respective jobs. We both enjoyed the work we did, but we also longed for something more rewarding.  In 2002, Jane got inspired to host an event that would get more women introduced to windsurfing and kiteboarding. We found a great spot to host a totally free introduction to windsurfing and kitesurfing event in Alameda. Alameda is the ideal beginner friendly spot, with a 2 mile long sandy beach with shallow, warm water. This super fun event led to over 100 women learning the basics of windsurfing/kiteboarding in a day!
Inspired by the success of this event and the love of teaching/presenting, Jane and I quit our corporate jobs to run Boardsports windsurfing/kiteboarding School & Shop. After the first summer of  teaching, we knew we had found our true passion – helping others get hooked on water sports. 
Is Kiteboarding your main business or you are also involved in other watersports?
We offer kiteboarding, windsurfing, and stand up paddling lessons, rentals, and retail gear. We love promoting all three sports as they all appeal to different types of sports enthusiasts in all types of weather conditions.
What are your most memorable memory of kiteboarding?
Having a butter smooth session on an F-One Bandit 8m under the Golden Gate Bridge, complete with harbor porpoises, birds, rolling swell, and smooth wind.
What are your favorite local spots?
Crissy Field SF, Crown Beach Alameda, Coyote Point San Mateo, and Sherman Island/Rio Vista.
What is your favorite local restaurant / bar after a session?
I love to get sushi at Sushi Sanraku on Sutter Street. It's on my way home from San Mateo, and it's fun to sit at the sushi bar and watch them make my sashimi and sushi while I drink cold sake.
Why did you choose to carry F-One?
We had a great relationship with Bruce and his entire family. His daughter Ella started teaching with us when she was 14. Bruce taught with us as well, and we just continued the relationship. F-One falls into the category of kites and boards we like to carry – high quality, high performance, and nice friendly folks supporting the brand!