The all new F-One 2015 TRUST Kite will be available in April and you can already pre order it. We will designate it as the "T3" since this is the 3rd generation of the TRUST. Designed for FREERIDING, the 2015 TRUST is a completely new kite, easier to use and yet with better performances. It benefits from all the work and progress achieved in terms of construction and shape with its elder sibling the 2015 BANDIT.
With an incredible speed control, the TRUST will make it easier for the riders to carve and dampen the waves and chop. Its exceptional upwind capabilities with flawless stability at 12 o'clock make it the perfect partner. The construction features a new fabric, the well known TECHNOFORCE™ double ripstop from TEIJIN. With superior resistance, robustness and more stability, this new fabric enables an unprecedented control of the canopy profiles.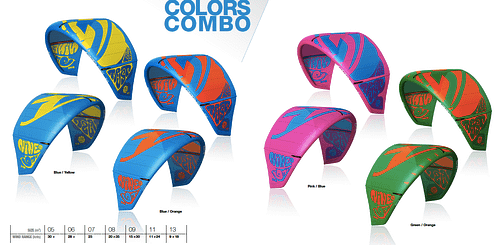 The 2015 TRUST also benefits from new reinforcements and a more balanced distribution of the tensions across the canopy fabric. One Pump valves have been further optimized. Thanks to the new fabric, it was possible to improve significantly the kite profiles with some neat gains in performances and ease of use. Remaining incredibly intuitive and stable to steer, with excellent power control and speed, the kite still demonstrates the best relaunch capacities.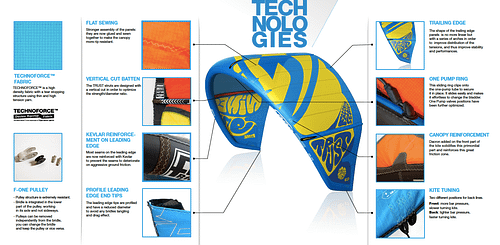 The 2015 TRUST makes it easier to ride underpowered without stalling the kite with power constantly available and easy to regulate. In the high range, the TRUST doesn't pull laterally and can be eased progressively to head higher into the wind in complete comfort and making upwind riding as easy as it can get.
The bar feeling is more pressed for a more expressive feedback of information which will help the less experienced riders. The TRUST is designed to fly with complete control any kind of wind conditions. Its behavior is reassuring and will give you full confidence to improve and push your level.
Sizes available: 5-6-7-8-9-11-13m
Wind Range (in kts): 5m 30+ kts
Download Catalog: Click here to download the TRUST 2015 Catalog in PDF format
Browse TRUST catalog online: Click here to browse the TRUST Catalog online
3D Viewing: Click here for the 3D Viewing