Words and Content by Gaël Espeche
Back in May, Florida F-One tech, Gaël Espeche, took a last-minute trip to hit the swell with friends in Pacasmayo and Chicama, Peru. Pacasmayo is considered the longest kiteable waves in the world. This spot delivers waves rideable for 2 to 4 minutes all day!


Mornings are the best for tow foiling with waves that starts technical at the lighthouse where you could score a few pockets and then the waves get smoother up to the village.
Kitesurfing and wingfoiling in Pacasmayo offers an exhilarating fusion of adrenaline and natural beauty. Nestled along the Peruvian coastline, Pacasmayo has gained international recognition as a prime destination for wind sports enthusiasts. What sets this spot apart is its consistent and strong side offshore wind patterns, making it a paradise for riders seeking reliable conditions.
The charm of Pacasmayo lies in its sprawling golden and rocky beaches, picturesque coastal views, and the thrill of riding the waves that roll in from the vast Pacific Ocean. Its long and open coastline allows riders to harness the power of the wind while gliding over endless waves. The towns tranquil atmosphere juxtaposed with the vibrant kites and wings dotting the horizon creates a unique blend of serenity and excitement.
 The waves at this spot can accommodate riders of all levels and for those that wishes to push their limits you can get into a pocket by the lighthouse. Make sure to leave a good buffer with the surfers doing step off so always look right before dropping in! Also, there is some hazards to look at such as a sunk boat by the lighthouse and fishing nets of all sizes that are usually closer to the boats parked in front of the village. Stay alert! The shore break, low tide and rocky seafloor can be also a challenge to get in. Be patient! Find the right spot to start and don't worry if the current takes you a bit downwind.
As the sun sets, the wind sports enthusiasts community comes alive, sharing stories and experiences on top of the cliff by the pool of El Faro Hotel watching others enjoying the last waves of the day. El Faro Hotel offers great accommodations and a nice restaurant in front of the spot. Highly recommended if you wish to visit Pacasmayo.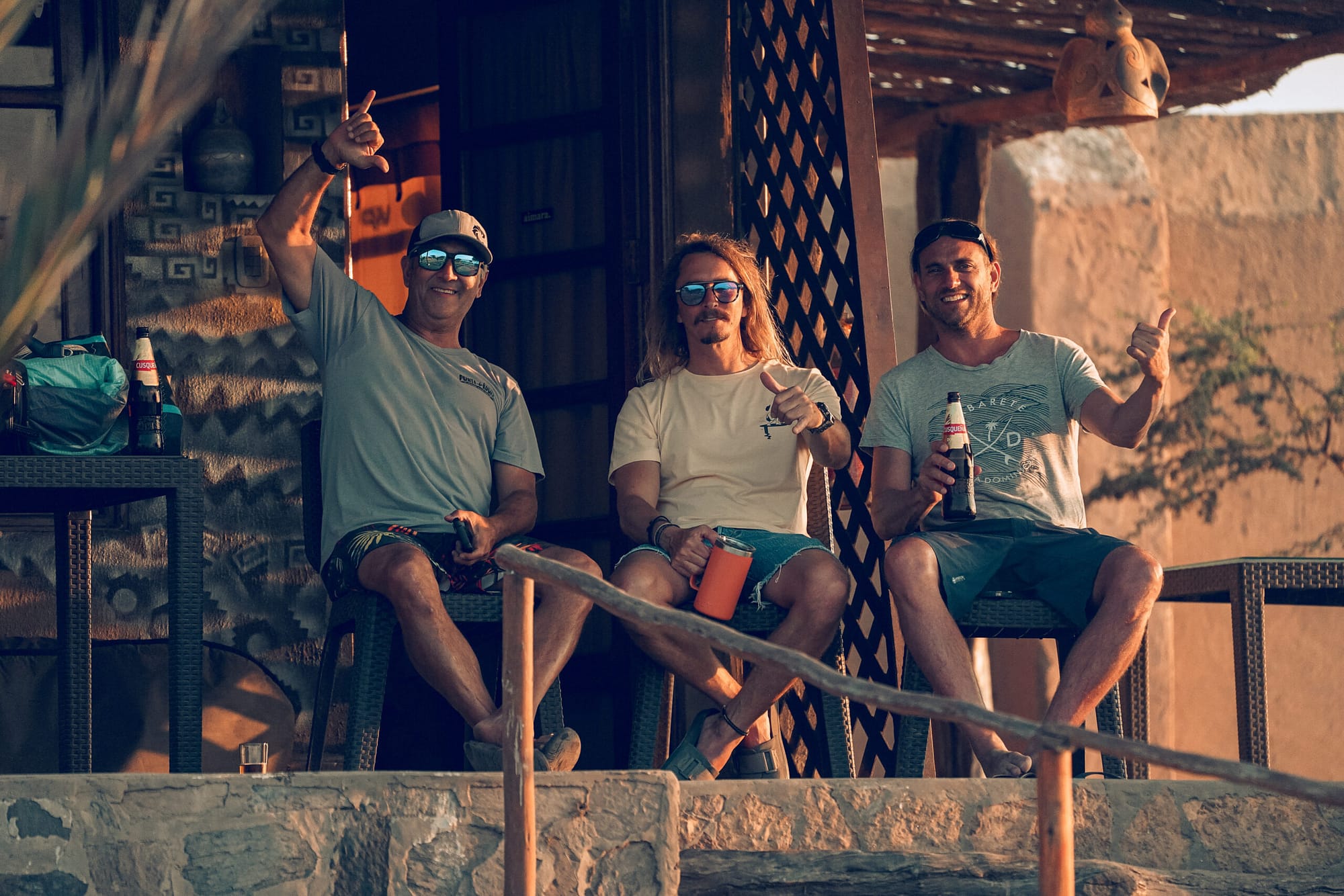 Recommended gear for tow foil:
Pocket foil board or Rocket foil surfboard
–
HM 80
–
85cm mast
–
Eagle 790 and SK8 850
Recommended gear for wing foil:
Rocket surf or Rocket wing board
4'
–
6"
and larger
–
HM 85CM mast
–
Eagle 790, phantom 840, SK8 850 and 7seas 1200
–
Strike V3 of Swing V3 4m to 5.5m and a CWC just in case!
Recommended gear for kitesurf:
Bandit S 9m to 12m
–
Mitu PRO surfboard or TWEAK
5'4" or longer
–
Manera HALO harness
Recommended wetsuit:
Manera Seafarer 4.3 and
3.2
After a few days of nice waves, it was time to head to Chicama, a coastal gem protected
by the Unesco world surf reserve. It holds an irresistible allure for surfers and wingfoilers around the world. This spot is not for kiters as the wind is completely offshore and you will experience a lot of gusts and area with no wind at all. Renowned for its picturesque coastline and its seemingly endless left-hand waves, Chicama stands as one of the world's longest wave breaks. 
Wingfoiling in Chicama is a captivating blend of artistry and nature's forces. The waves here offer a canvas to carve graceful lines to showcase skills and creativity. Whether a novice or an experienced rider, Chicama offers a range of wave heights and difficulties to suit all levels. The gentle, rolling waves that can last up to 5 minutes of riding time (legs burner!) are perfect for beginners to gain confidence, while the more challenging breaks cater to the seasoned surfers looking for a rewarding test. It is very important as a wing foiler to walk as far as possible upwind.
 There is a lot of current, wind gust and the shore break can be challenging to pass. Stay vigilant as the current is very strong and can take you downwind in no time where a large pier and reef are dangerous since nobody will be able to come to the rescue! Beyond the waves, Chicama's serene beauty enchants the soul. The quaint fishing village exudes a laid–back charm, providing a welcome respite from the hustle of city life. The warm hospitality of the locals, charming little hotels and the mouthwatering Peruvian cuisine create an authentic and enriching experience.
Recommended gear for tow foil:

Pocket foil board or Rocket foil surf board
–
HM 85cm mast
–
Eagle 790, Phantom 840, SK8 850, 7seas 1200

Recommended gear for wing foil:

Rocket surf or wing board 4'6" and larger
–
HM 85CM mast
–
Eagle 790, Phantom 840, SK8 850, 7seas 1200
–
Strike V3 of Swing V3 5m

Recommended wetsuit:

Manera Seafarer 4.3 and 3.2